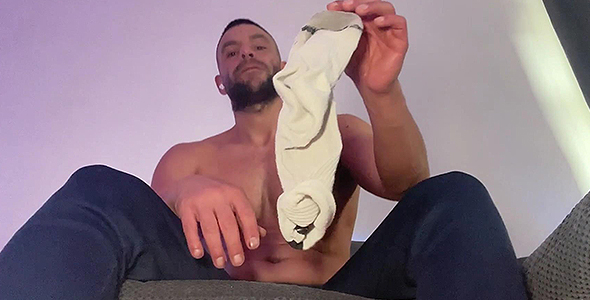 3 New Video – Bow down and crawl to King Luca's feet as he flips you off and spits in your face. It is your job as a foot faggot to sniff and worship his socked feet. When you're done worshiping his big alpha feet, open your mouth for gobs of his spit. While you're down there, you can look up and serve King Luca's feet. Open your mouth while under this dom's feet so he can blow his cigarette smoke in your face and spit in it too. Foot slaves will enjoy cleaning King Luca's sweaty and dirty feet. If you've endured all of that punishement, then King Luca has a treat for you. You can drool and salivate over him stroking his massive cock. Watch a real man stroke his big uncut dick as he sits there in white socks and pulled down white compression pants. King Luca whips out his massive dick and strokes to some porn while you goon watching him.
---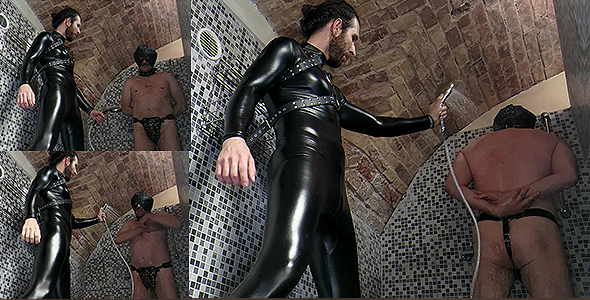 3 New Videos – This slave experiences an ice cold shower from Master Alex. After spending several days in Master's hard metal cage, slave Gus is starting to smell. So Master Alex takes him to the shower and unleashes the cold water on this slave. The slave doesn't deserve the comfort of warm water and only deserves proper discipline to achieve his full potential. Once you're done watching that you can watch some hypnotic videos from Master Alex. Set to a series of stimulating images, Master Alex provides audio training for you to become a sissy bitch and to worship his cock. If you aren't ready for that level yet then start off with a humiliation intro to BDSM slavery audio clip. Master Alex trains submissive bitches like you through these dirty verbal audio clips. Watch along as images of Master Alex flash on the screen.
---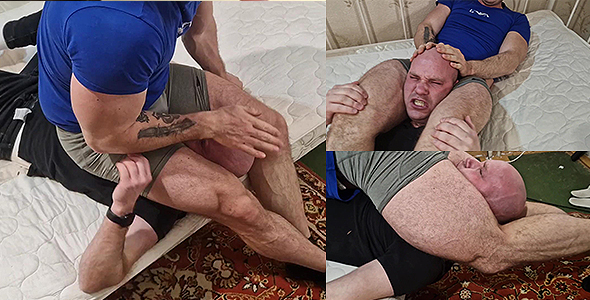 4 New Videos – Timur is getting more experienced in his scissor skills when locking in submissions on a slave. This time, Timur wants to capture the agony of the experience on his phone as he takes selfies while using a slave. The power and muscles of Timur is amazing as he locks his muscular legs around this slave's head and doesn't let go. Fans of that abuse will also enjoy watching Elliot Scissors and some more of his friends train a slave. In their practice gym, these jocks invite over a dorky slave boy to train with them. The jocks lock in a variety of painful techniques and submissives on this beta boy and leave him screaming for mercy.
Elliot Scissors then has his fun in a one-on-one session with this dummy when he locks in brutal submissions on the slave. This dummy should be lucky that Elliot Scissors is even using him and be grateful that Elliot Scissors has taken this guy in as his property. The tough bullying continues all throughout the clip as this sub boy taps out. Later, Elliot Scissors meets up with his buddies for some friendly wrestling. These gym bros show off their fighting techniques on each other. With all of this testosterone and these egos, the jock boys sometimes never want to tap out until it's too late.
---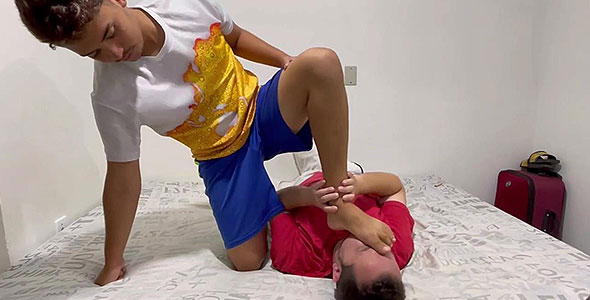 5 New Videos – MasterCH has some fun with slave Matt as he totally humiliates the slave. Making the slave worship his feet, MasterCH plants his huge feet over the slave's entire face to smother him. Slave Matt worships this dom's feet and gets spit on in return for it. In another meet up with MasterCH, Slave Matt is choked out as this dom sits back and watches TV. MasterCH locks in some tight headscissors on the slave and ignores the slave's whimpers and moans. This alpha isn't going to be bothered by the cries of his slave. Later, MasterCH decides to trample his slave. Getting slave Matt laying on his back on the bed, MasterCH walks all over the slave like he's a human doormat. Showing his slave no respect, MasterCH walks on the slave's head and chest while standing over the weakened slave.
MasterCH then gets bored and wants some public foot worship. Taking the slave outside, MasterCH gets the slave down on the dirty ground and takes off his shoes for the slave to service his feet. MasterCH then gets his dirty feet worshipped outside by this slave in public. Once back inside, MasterCH wants to play some videos games as he chokes his slave. Relaxing with his legs out, MasterCH locks his legs around the slave's throat again and chokes him into submission. Totally fixated on his game, MasterCH doesn't care that the slave is struggling and begging for mercy.
---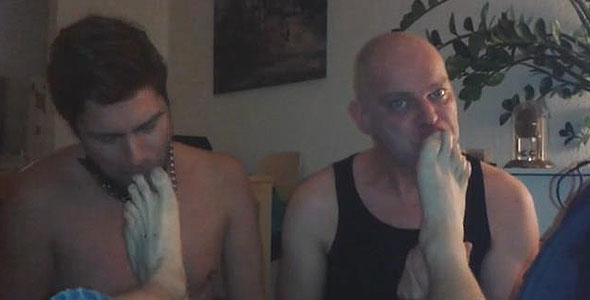 4 New Videos – Master Berlin gets his feet worshipped by 2 slaves. With 2 slaves at his feet, Master Berlin orders each slave to worship a different foot. The slaves love serving at this alpha dom's feet as it gives them a true purpose. After the one slave leaves, Master Berlin gets super nasty with the remaining slave and orders it to taste his snot. Master Berlin gets his snot ready for the slave and the sick and twisted slave sticks his tongue out for his treat. Wearing a dogtail this slave is truly where he belongs in this moment.
When the slave visits Master Berlin he is immediately put to work. It is this slave's job to clean the entire apartment and make it spotless. The slave is also instructed to clean his master's boot and lick them clean with his tongue. The stupid foot fag can then serve at his master's feet. While at his Master's feet, the slave is fed toenails and ordered to sniff his dom's dirty socks. The slave then gets pissed on and treated like worthless scum.