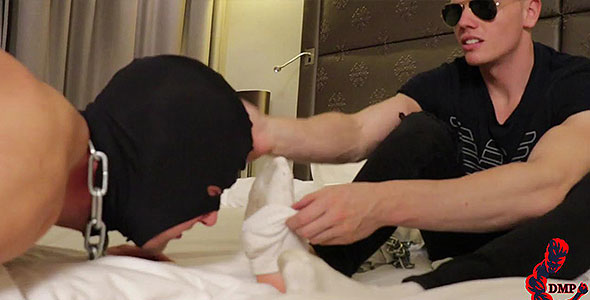 2 New Video – GermanMuscleGod gets his alpha feet worshipped by his masked foot fag. This hot worship session sees the foot slave sniffing and licking his dom's superior feet. Get an exclusive glimpse into how GermanMuscleGod uses his slave's in a real time session with this download. In another real time meet, GermanMuscleGod tramples his slave. Out in the open, on a balcony, this slave has to endure his master's full bodyweight stomping down onto him. This slave is treated like a human doormat as GermanMuscleGod walks all over him with his barefeet.
---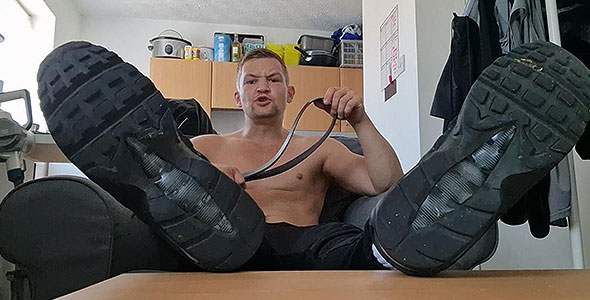 3 New Videos – Master Gary puts you through some extreme pig training. Prepare to face the full gauntlet of abuse from this dom as he verbally abuses you. Get your dildo out and follow his instructions as he tells you how he'd abuse you during a real time session. Once you're done following Master Gary's verbal commands, you can be a good cash faggot and worship his sneakers. Lick the bottoms of Master Gary's black Nike sneakers and fully obey his orders. This alpha dom will mock and ridicule you while you're groveling down at his feet. Then, for his own amusement, Master Gary will give you a faggot beatdown. Lacing up his boots and putting on a mask and leather gloves, Master Gary is ready to pummel you. Get your wallet out and accept your scally bully beatdown from this superior findom.
---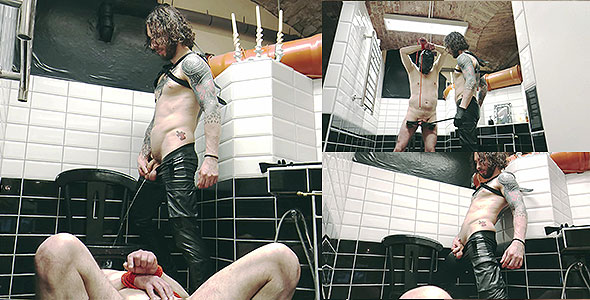 5 New Videos – Master Alex has slave Gus ready to be transformed into a human urinal. But this leather master doesn't want the slave to enjoy it too much so he puts him in a humbler. The slave's swollen blue balls ache and punish him with every movement as Master Alex fills the slave's mouth up with piss. After watching how Master Alex uses slaves, you can watch his video guided audio clips about how slaves must be degraded and humiliated. Just like slave Gus, it is your destiny to be used and treated like scum by superior men. Watch these flashing images of Master Alex as he verbally guides you through real slave training. The audio clips will train subs like you through verbal instructions on how to be an obedient slave.Once you're done with training, you can then be verbally instructed to eat your own cum. Follow the commands of your dominant leather master as you become an obedient audio slave.
---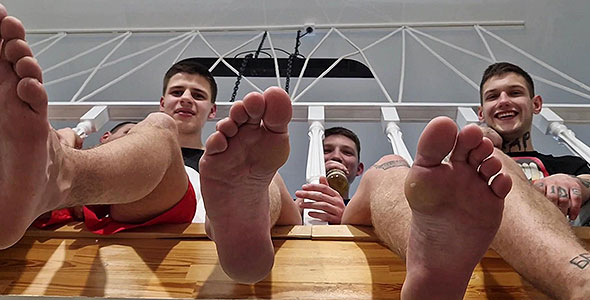 4 New Videos – Masters Hunter, Ritchell, Nevil, Robert, and new Master Joe sit resting on the second level balcony waiting for their slave to serve their feet. The slave must reach out with his tongue and lick the dangling feet of each master. The master's mock this slave from above on the second level as they spit down at him and treat him like a foot licking spittoon. Later, the Master enjoy dominating and humiliating their slave up close and personal. This slave is choked out, slapped around, and mocked by the group of alpha doms. You can see how hard it is for the slave to get through this session as the master's laugh at him.
In another real time with this slave, Master Nevil orders the slave to clean his feet with it's tongue. The slave obediently massages and licks his master's feet. Afterwards the slave is ordered to sniff the scent of Master Nevil's rank, nasty, sweaty athletic shoes. Finally at the end, the slave drinks tons of his master's spit from a glass to show his devotion. The group of 5 masters then returns to spit all over their slave. The slave is completely covered in spit from each dom and shows his pitiful appearance to the camera as these men laugh at him. Some of the doms then start smoking and dumping their ashes on the slave's head as well. The slave is a filthy, depraved mess of filth by the end of this clip.
---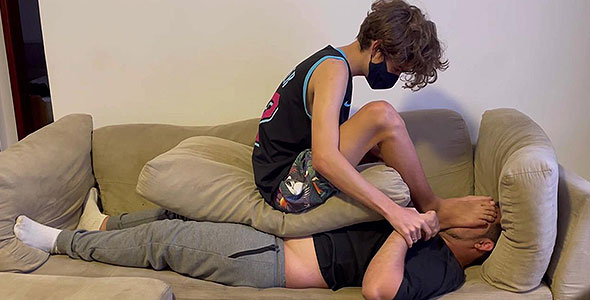 5 New Videos – Master J sits on his slave and smothers him with his feet. This obedient slave is pinned down on the sofa as Master J plants his feet right on the slave's face. All the slave can do is breathe in the scent of his master's huge alpha feet. If you want even more of a close up of Master J's feet, then check out the next clip. Master J gets the camera right up to his feet so you can see every detail of his superior soles. Stick your tongue out and lick your screen to show your devotion to his feet.
Slave Matt then meets up with Master P for some more real time abuse. Master P chokes out his slave with his strong legs. The slave struggles and whines as there is no way to break free from the tight grip of Master P's leg choke. Master P then locks the slave in a tight bear hug. The slave gets completely dominated by his master as Master P doesn't let go. Master P squeezes tighter as this slave struggles for freedom. The intense bear hugs continue in the next part of this real time session. Grabbing his slave from behind, Master P dominates and squeezes Slave Matt. This slave has no where to run to and cannot escape the grasp of his alpha master.