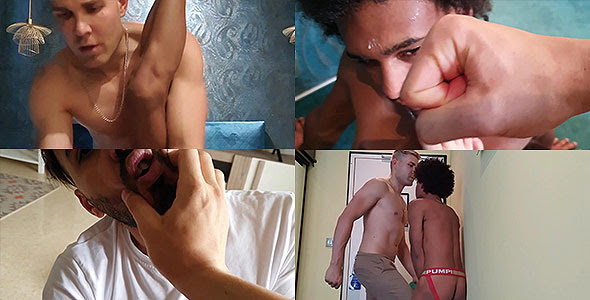 4 New Video – Brutal dom JordanFox has a slapping compilation of some of his rougher beat downs. This alpha slaps his slave's without mercy or hesitation. See how much abuse his slave's can take as he smacks them around viciously. After that compilation you can check out his compilation of him pissing on slaves. Jordan Fox turns all of his slaves into human urinals in this clip. The obedient slave's gladly take his piss all over their bodies or drink it to show their depravity.
If you want some solo action then download Jordan Fox's clip of him using and abusing a sexy boy. This dom facefucks and smacks around this pretty boy for his own pleasure. The boy gags and chokes on his alpha cock throughout this nearly 20 minute clip before getting choked out while he's fucked in the ass. Things get darker in the next clip when Jordan Fox goes German style on a masked slave. Jordan Fox makes this slave feel totally inferior to Jordan Fox's alpha superiority as he gags on his master's dick. The slave is treated with no respect and completely used.
---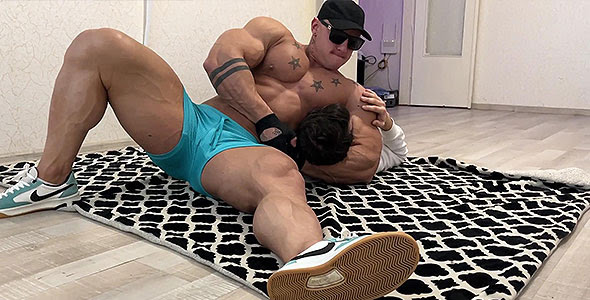 4 New Videos – The Punisher is ready to torment this beta boy. Wearing sunglasses and tiny shorts, The Punisher locks this weak boy in a tight headlock to choke him out. The boy begs for mercy but The Punisher doesn't offer any to this weakling. In the next clip, another Chokemaster, Andre, shows of fhis Jiu Jitsu chokeholds. This jock demonstrates two chokeholds on his brother. Just imagine if you were in the place of his brother getting locked between those strong, dominant arms.
If you crave more choke domination then check out Big Alpha dominating his tied up slave. This weak boy is tied up to a chain and choked out by this massive muscle dom. Big Alpha physically and verbally abuses the boy while making him submit in a variety of holds. Big Alpha then sets his sights on dominating slave Gio in some arm wrestling. This matchup starts off with some arm wrestling then turns into a brief muscle worship session. After that it escalates into muscle worship domination with Big Alpha choking out Gio.
---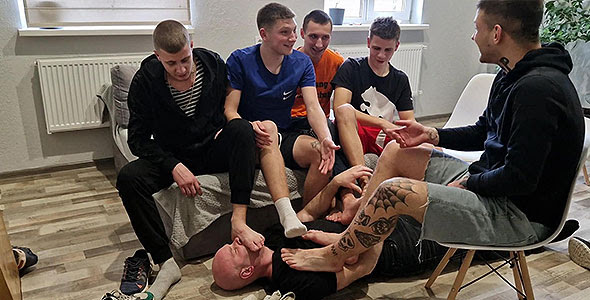 3 New Videos – In this 20 minute video clip, these 5 masters humiliate and ridicule their slave for their own amusement. The poor slave is treated like a doormat as he's walked on and made to worship each man's sneakers. The slave must lick sneakers, sniff socks, and lick feet as he's getting slapped and spit on. In another real time with the same slave, Masters Basford, Nevil, and Robert humiliate this slave. The masters demand their feet be licked as they slap this slave's bald head. Master Nevil then squeezes the slave's head between his muscular legs while the other two doms abuse the slave. After Master Robert leaves, Master Hunter comes over for the slave to do some more alpha male foot worship. The intense foot licking continue as these doms plant their feet in the slave's face while having a beer. The doms laugh at this slave as he gags on their feet and toes.
---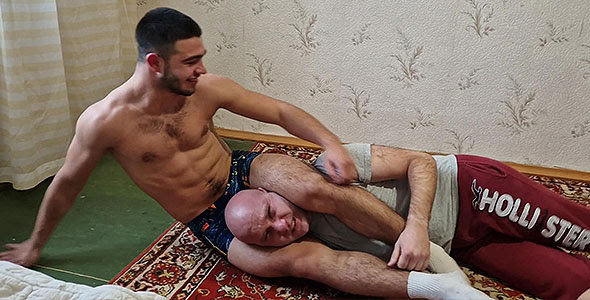 5 New Videos – Master Hunter locks his slave in a tight headscissors between his powerful legs. The slave begs for mercy and struggles as Master Hunter just laughs with pleasure at the slave's misfortune. Master Hunter dominates and asserts his power over this slave effortlessly. In another real time meet with Master Jim, the slave is squeezed in a headscissors. Jim jerks the slave's head around to the beat of the music playing in the background while laughing at his pain. This slave is treated like an object and mocked all throughout this 20 minute clip. For some first person POV, check out this next clip of the slave being choked out in a first person POV. This slave is trapped between his master's legs with the camera showing a close up of the slave's face. He winces and struggles as he's dominated and choked.
Days later this slave is double dominated by Timur and Elliot Scissors. These two doms squeeze their slave between their strong and muscular legs. The slave gets his torso and head squeezed simultaneously. After all that slave domination, the boys need to get some wrestling practice done. Elliot Scissors and three of his dom buddies do a foursome wrestling match to practice their moves. Watch these four alphas compete against each other and demonstrate their fierce strength.
---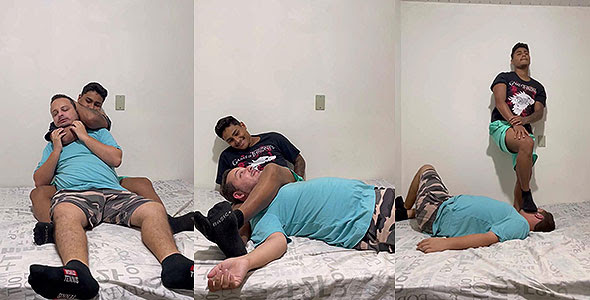 5 New Videos – Master Daniel shows off his alpha strength as he chokes out Slave Matt. Laying on the mattress, Master Daniel gets behind Slave Matt and locks his bicep around his neck. Slave Matt struggles but there is no use against this dominant master. Switching up gears, Slave Matt gets revenge against Master Daniel as he is the one who takes on a dominant role this time. Sneaking up on Master Daniel, Slave Matt locks him in a choke hold and tries pinning him down. We can assume next time, Master Daniel will inflict harder punishment on Slave Matt for this infraction.
In another real time with Master J, Slave Matt worships his alpha feet. Master J sits back on the couch and relaxes as Slave Matt licks, sniffs, and services his barefeet. Slave Matt then services another dom, Master E, but this dom wants to abuse his slave. Master E tramples, punches, and kicks Slave Matt around. This slave serves as a human punching bag for his master's abuse. Later, Master E chokes his slave during their real time meet. Slave Matt gets pummeled and beat down again but this time locked in a variety of chokeholds. Master E makes sure this slave experiences pain and punishment in this meet up.