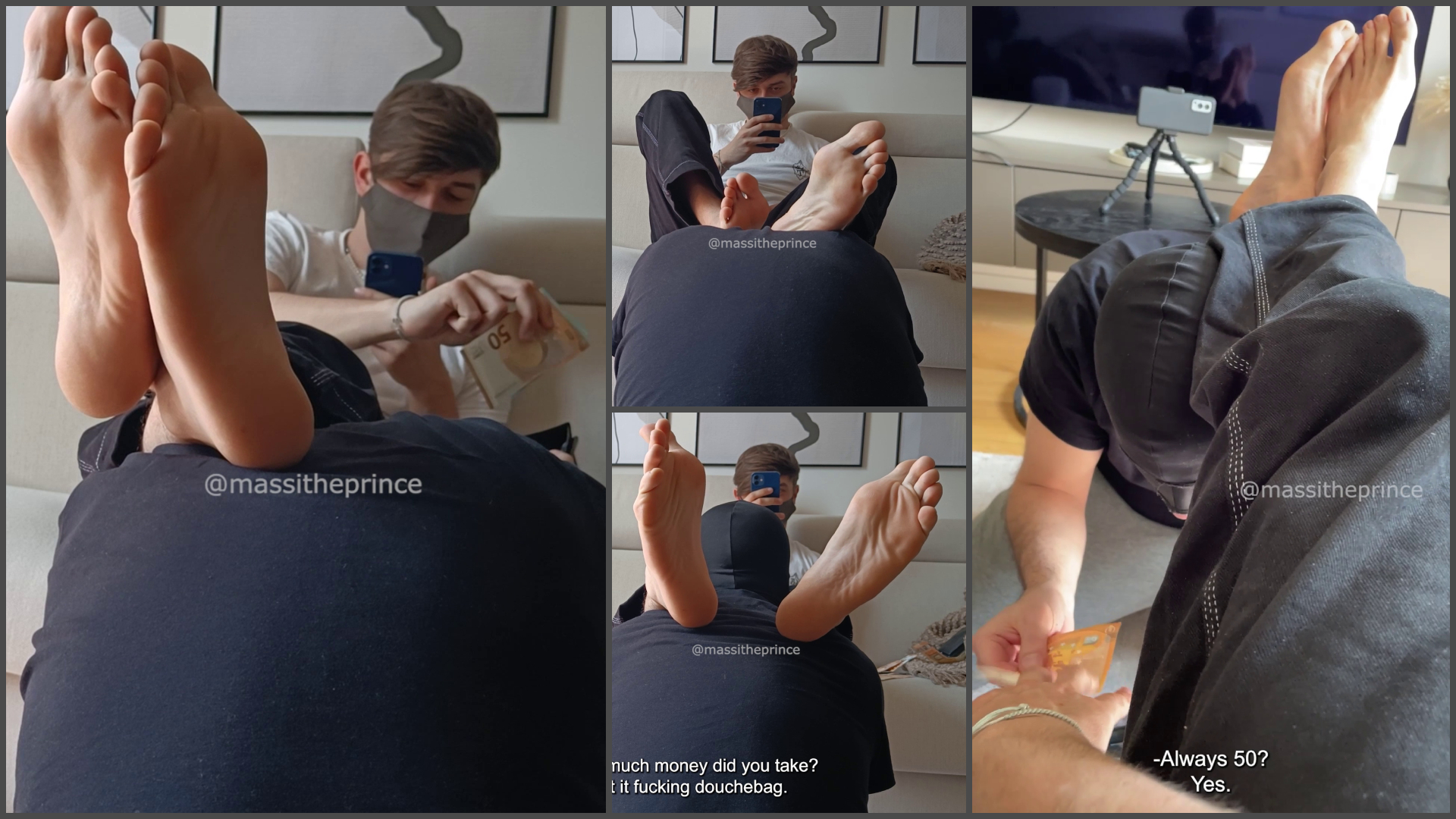 4 New Videos – It's hilarious how subhuman jerk off thinking about Massi the Prince taking all of their money. Every single cent in your wallet will go to this dom once you fully submit. That's no different in this real time as Massi the Prince drains this slave's wallet while using him as a footstool. In the next video upload, Massi the Prince will further turn you into an obedient human ATM. Get eager to spit out cash for your master and serve at his feet. You aren't human anymore, you are merely an object that spits out cash on demand.
In exchange for good service, Massi the Prince will let you eat his toenails. This masked slave lays down on his back with his mouth open as Massi the Prince clips his toenails into its mouth. The slave is treated like a human dustbin by his master and gladly swallows his dom's toenails. Accept your place in life like Massi the Prince's real time slave as he is gagged by his master's feet. The masked slave licks clean the soles of this powerful dom's sneakers. Afterwards, he is slapped around and mocked by Massi the Prince. Once the slave is fully obedient and accepts his place, then he can worship this master's barefeet.
---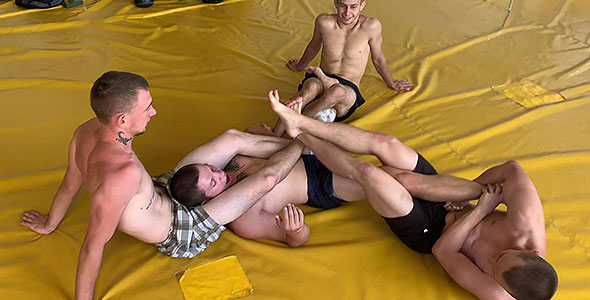 5 New Videos – Elliot, Demir, Mark, and Jack have a team squeezing competition between each other. Jim agrees to test the leg strength of these jocks as he's locked in a tight bodyscissors. The studs take turns testing out their strength by squeezing Jim nonstop for 30 seconds each to see how much Jim can withstand. In a one-on-one competition, Elliot and Jim battle it out as Elliot locks Jim in a super tight headscissors. Elliot is unstoppable once he gets the hold fully locked on around Jim's head. Jim wants Elliot to show off his full strength to again see how much he can endure. Elliot tests his strength out on another buddy as he takes him for a ride. Elliot and his buddy are outside on the hood of a car while Elliot locks his legs around his friend's neck. Elliot squeezes with his full might to see how much his bro can withstand.
All of that wrestling prepares guys like Timur to choke out a slave. Timur pins this pathetic slave under his muscular body right before jumping and pouncing on this slave's chest with all of his weight. The victim has no where to go once Timur locks him in a headscissors and squeezes the life out of him. The same slave then gets humiliated and choked by Elliot's friend, Neville. Neville is like a python gradually squeezing his prey. When this slave is exhausted, Neville begins to use humiliation techniques by pressing the slave's face into his sweaty crotch.
---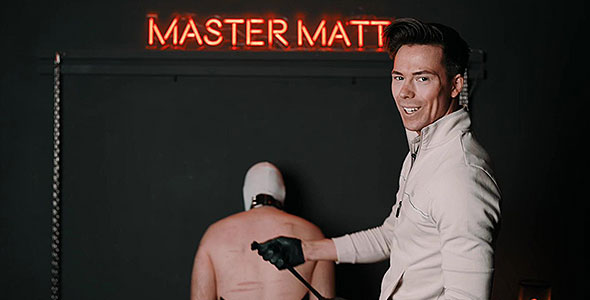 2 New Videos – Master Matt loves whipping his slaves. In a live session, Master Matt gets his slave in a bound, defenseless position as he proceeds to whip the slave's back. This slave gets a brutal beating from his dom as Master Matt just laughs at the slave's suffering. That was just a warm, it is now time for Master Matt to abuse this slave's nuts. The slave is shackled with no escape as Master Matt kicks the slave repeatedly in his nuts. The slave grimaces in pain and begs for mercy but Master Matt is not a merciful dom.
---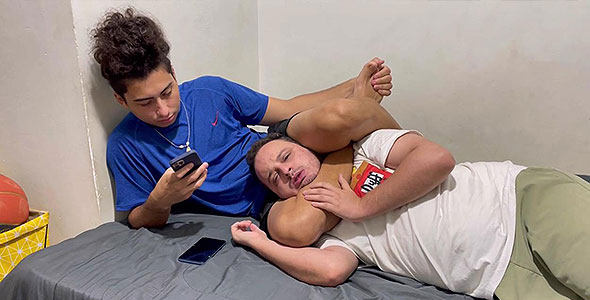 5 New Videos – Master G makes Slave Matt submit between his strong legs. Locking the slave between his legs, Master G squeezes Slave Matt's head until he's begging for escape. Master G just continues to play on his phone ignoring this slave's cries. Later, Master G shows off his jiu jitsu skills when dominating his slave. Slave Matt is beaten and abused by Master G as he locks on a variety of jiu jitsu holds on his slave. By the end, Slave Matt is pinned underneath Master G as he's mocked and laughed at. The choke abuse continues as Master G locks Slave Matt in a series of chokeholds that will have him gasping for air. Master G loves abusing and choking this slave to exert his dominance and power over such a weak creature.
Master G meets up with his slave for another real time for even more jiu jitsu abuse. Master G locks the slave in a variety of submission holds and makes him quickly tap. Once the slave does, Master G covers the slave's face with his sweaty, alpha male feet. In another real time encounter between the two, Master G sits on his slave's face. The slave is totally ignored as Master G plays some video games while using the slave as a human chair. The slave is shown no attention and no respect as it's being used.
---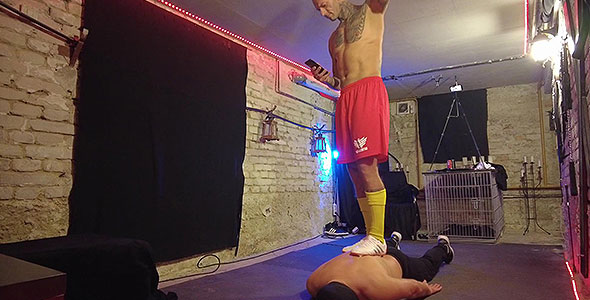 1 New Video – AdonisDomTop is ready to show that hierarchy works. Standing over his slave while wearing cleats, AdonisDomTop tramples this slave like a human doormat. The slave is stomped on and abused under his master's soccer cleats.