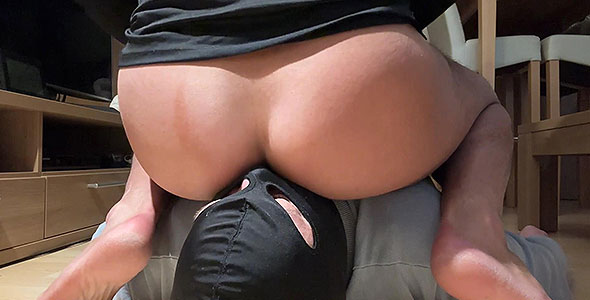 1 New Video – This pathetic masked slave worship and eats King Luca's ass in their real time meet up. Worshipping every part of King Luca's ass, this slave is totally obsessed with his master. Later the slave gets the chance to worship his masters feet and drinks his dom's piss.
---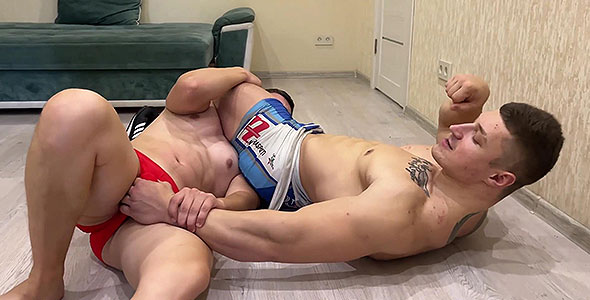 3 New Videos – Big Alpha grabs this boy's balls during a domination session. Wrestling the boy, Big Alpha reaches down and begins to squeeze and twist the sub's balls for maximum punishment. The boy is dominated immensely and begs for mercy. Big Alpha then does another beat down session with a sub where he shows off his huge muscle ass. Big Alpha strips down and shows off that huge muscle ass to everyone in a silver thong. Then he lifts up a beta boy to show off his strength. However, the time for goofing around is over as Big Alpha then fights another muscle dom. The Punisher and Big Alpha square off against each other for over 20 minutes in an old-school wrestling match. Both wearing jockstraps, these two behemoth muscle studs show off their strength and submission hold skills.
---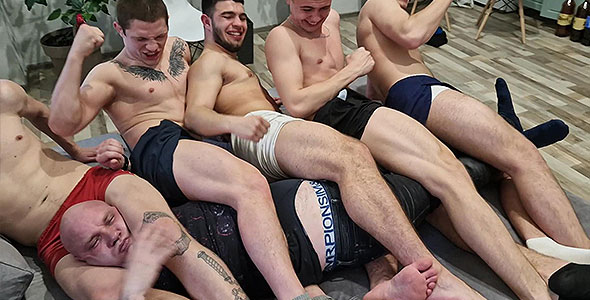 4 New Videos – Elliot Scissors, Hunter, Jim, Nevil and their buddy Ricardo beat up and bully their slave. These 5 dominant alphas lock the slave in a variety of chokeholds between there legs and laugh as he struggles to escape. At the end, all 5 men lock the slave in a huge submission hold applying maximum abuse. When the slave leaves, some of the doms have their own fun in a friendly wrestling match. Elliot Scissors, Jim, Hunter and Dustin battle it out on the sofa with each other. Locking in a variety of wrestling holds, the dom buddies have a good time and get in some practice for their next slave abuse session.
Dustin and Jim have a dom fight between each other. These two dominant men wrestle it out on the mat showing off their leg strength and submission hold expertise. Locking in a variety of submission holds, these two alphas see who is the stronger alpha on this day. In a similar wrestling session, Elliot Scissors and Hunter wrestle each each other for superiority. In a fun battle betwen the two, Hunter attempts to get out of a variety of submission holds administered by Elliot Scissors. See which of these two doms is the more skilled fighter.
---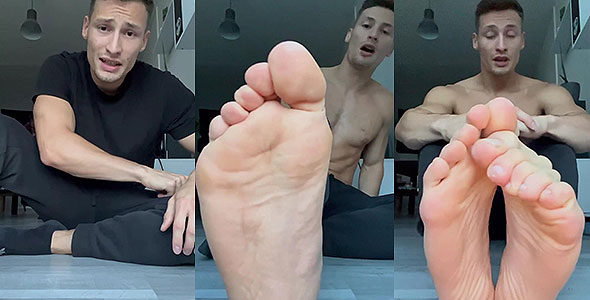 you've been craving with his big ripped muscles and huge feet. This verbal alpha will order you around as to how he wants his feet sniffed and serviced. See how it is done with this foot worship real time session. Ripped Riki has a masked foot fag come over and serve his alpha male feet. This loser slave gets everything he deserves as Ripped Riki plants his foot all over the slave's face. The next masked foot fag gets to clean his master's feet. Laying down on the ground and looking up at his master, the masked foot fag takes all of Ripped Riki's foot in his mouth and cleans it. The slave licks and sucks his alpha dom's toes and feet.
---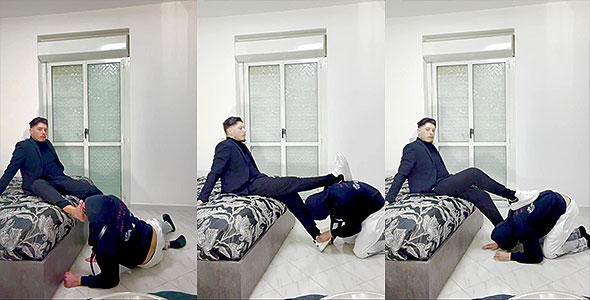 1 New Video – Master Towser calls over a slave to clean his shoes. The slave enters and immediately is degraded and used. Master Towser turns this slave into a human ashtray as he blows smoke and flicks ashes on the slave. After he's done with that, he is then ordered to worship and serve his master's feet.