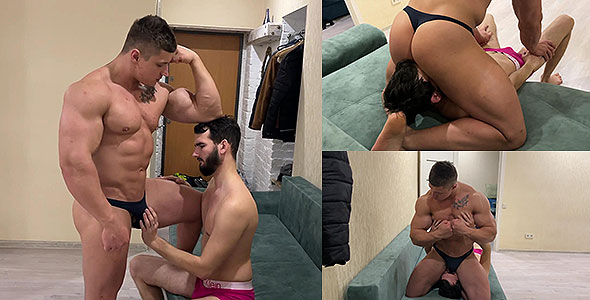 3 New Videos – Lucky boy, Gio, cannot keep his hands off Big Alpha while giving him an erotic muscle massage. Gio caresses this muscle man's body and cock and balls through Big Alpha's singlet. Afterwards, Big Alpha facesits on him pinning him under his crotch and ass. Big Alpha then pairs up with someone his own size in this trampling video clip. Big Alpha and King Romeo are two muscle Gods who want to test the strength of each other's abs when they trample on each other. This is over 220lbs of body weight and barefeet, do you think you could handle that? In another clip, a pair of Russian muscle boys flex and choke each other. These tatted Russian studs pump up their biceps before wrapping them around each other's throat. See how much choke domination each guy can withstand.
---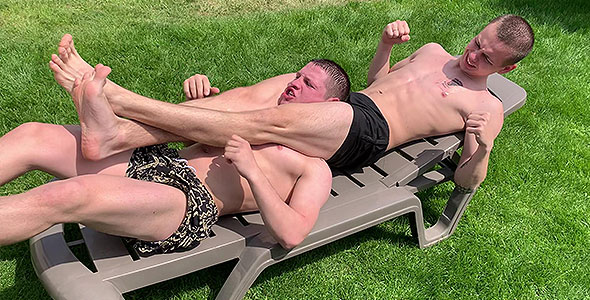 4 New Videos – Jim is one of the few friends of Elliot who can withstand the strength of his legs. Jim and Elliot go outside for this intense bodyscissors clip. Elliot Scissors shows his friend Jim how strong and tight his bodyscissors holds are while in the grass. Back inside, Elliot's buddies Dustin and Demir have their own wrestling battle. These young muscle studs get on the bed and lock each other in a variety of submissions. Both are trained wrestlers and use their skills and power get the other to submit.On the wrestling mat, Jim, Ethan, and Hunter want to fight it out. These three dominant men lock a combination of team submissions on the other to assert their dominance. Check out how creative they can get while locking on a headscissors and bodyscissors simultaneously. Days later, Jim and Hunter battle it out one-on-one to test their submission holds on each other. Jim and Hunter are friends but very skilled opponents when fighting against each other. Both jocks show the power of their legs and demonstrate a variety of scissor skills to see who can submit first.
---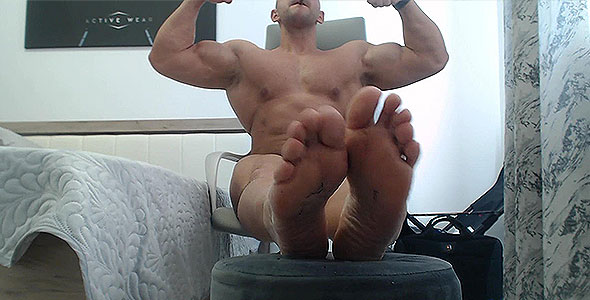 2 New Video – MuscleGodZian will have you drooling over his alpha male feet and muscles. Wearing a skimpy black pair of underwear, MuscelGodZian flexes and plants his feet right up to the camera. Submit and worship this alpha's superior body. Afterwards, MuscelGodZian shows off his massive pecs. This powerful dom bounces his muscled pecs with the camera on the ground looking up at him. It's almost like this muscle master is a giant towering over you ready to smash you.
---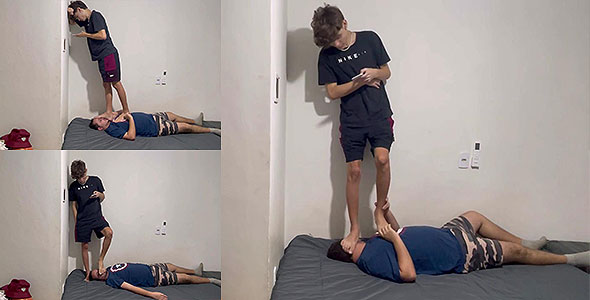 5 New Videos – Master J visits his slave to trample all over him. Slave Matt lays down on the ground as Master J walks all over his body like a human doormat. Master J steps on this slave's face causing him to moan in agony. The stomping continues when Master J returns for part 2. Slave Matt is treated like a doormat throughout the nearly 5 minute clip. Master J shows no remorse as he steps on, stomps, and kicks his slave around. Once their done, Master J gets the slave to worship his feet. Jamming the soles of his feet and toes in Slave Matt's mouth, Master J completely dominates this slave. It is the slave's job to service and worship his master's superior feet.
Switching things up, Slave Matt invites over Master K to trample him too. Master K tramples the slave hard and completely ignores the slave's moans and groans. Slave Matt continually is walked on by dominant men. The next day, Master J returns for some facesitting domination. Slave Matt is treated like a piece of furniture as Master J sits on him and rides him like a pony. Master J is totally unphased by all of this and plays on his phone while sitting on his property.
---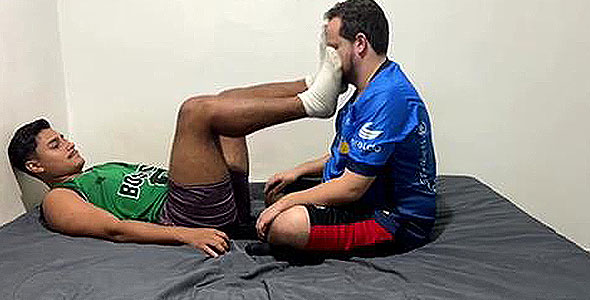 5 New Videos – Master Daniel gets his slave to worship his socks. Planting his feet right in the slave's face, Master Daniel gets his slave to inhale and sniff his sweaty socks. This slave has no other place he'd love to be than to be sniffing Master Daniel's sweaty socks. Things get more intense when Master Daniel chokes out his slave. Slave Matt endures some rough choking while Master Daniel gets behind him and locks in a multitude of submissions. Master Daniel takes breaks from choking his slave to flex for the camera and show off his arrogance. Once his slave has had enough, Master Daniel sits on the slave's face. This slave is totally exhausted and so is Master Daniel, so why not have a seat right on this slave's face. Master Daniel once again flexes for the camera while laughing at how weak this slave can be to him.
Once Master Daniel returns days later, he's in the mood to choke his slave. Getting behind his slave, Master Daniel wraps his biceps tightly around this slave's neck to make him submit. The slave has no where to run to when Master Daniel locks in the headchoke from behind. For fun, Master Daniel lets his slave fight back. Dressed in the formal Jiu Jitsu gear, Master Daniel and his slave goof around as the slave thinks he can take on his dom with some payback. Little does the slave know, that Master Daniel will just dominate him even harder next time.