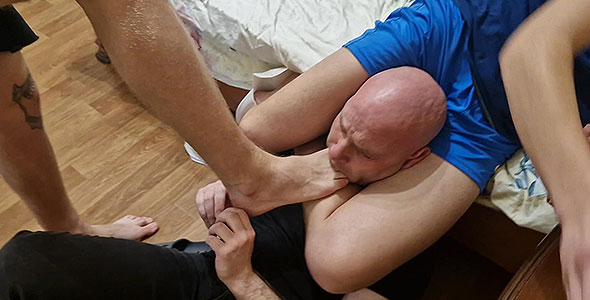 4 New Videos – Masters Basford and Nevil completely exhaust this slave by painfully beating him with added elements of humiliation. These doms clamp the slave's head between their legs and press him into the other one's crotch. The doms just laugh at this slave as they sit on his face and choke him out. On another real time meet, a group of masters sit at the dining table for some dinner and beers while the slave services their feet under the table. The doms get generous at points and feed the slave table scraps from their feet and toes. The miserable slave can constantly hear their ridicule of him before they all make the slave drink their spit.
The humiliation of the slave increases as 4 of the masters burp in the slave's face. The slave grimaces from the nasty burps he has to smell. This only makes the doms get their burps to be more intense and louder to really torment this sub. Taking the slave outside, 7 of the doms spit in the slave's face. They continue to spit and blow their nose on this slave's pathetic face. The slave has no where to go except to endure all of the nasty, raunchy spit and snot these doms cover him with for their amusement.
---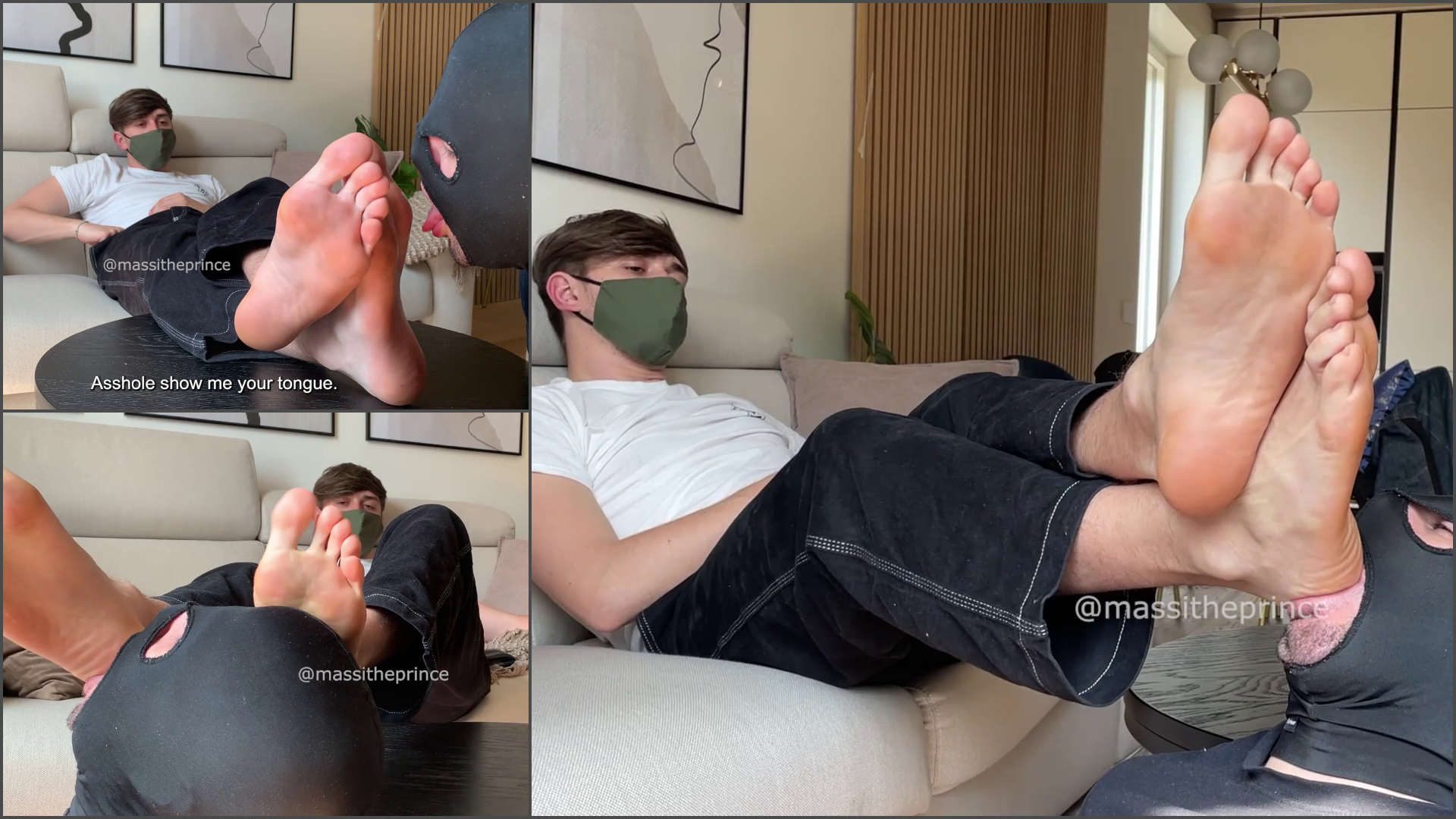 4 New Videos – Your tongue is just to be used to clean Massi the Prince's dirty feet. Just like this masked sub, your purpose is to stick your tongue out and service this dom's barefeet. The masked slave licks clean the dirty soles of Prince Massi's big powerful feet while getting verbally abused in Italian. Afterwards, Massi the Prince turns the slave into a human doormat. Stepping onto this slave's face and chest, Massi the Prince shows no respect for the slave. Stomping and kicking down on the slave, this dom puts his masked sub in his rightful place underneath him.
After that abuse, it's time for the slave to become an ashtray for his master. Massi the Prince orders the slave to open his mouth wide for his cigarette ash. This proves how much the slave is worth to this arrogant dom which is next to nothing. Every time Massi the Prince flicks an ash in this slave's mouth, he takes a tribute on the computer in the process. If you need more psychological abuse to go with the physical abuse, then become a cuck slave for Massi the Prince and his girlfriend. This powerful alpha cuddles and makes out with his girlfriend while you're to stay at his shoes and serve him. Open that wallet while you sniff this master's straight feet.
---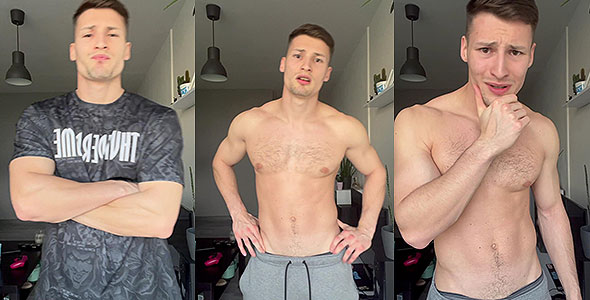 3 New Videos – RippedRiki will treat you the way you need to be treated. The way you need treated is with zero respect and taught total obedience. You'll quickly follow all of RippedRiki's orders and learn how to be an obedient fag as he spits on you and verbally abuses you. If you need more spit, then RippedRiki has even more spit for you. Spitting on his mirror, RippedRiki shows you what your face will look like when he's done spitting all over you. It'll slide down your face like it slides down the mirror as a badge you should wear with honor. Once you've endured enough humiliation then you can serve his feet. RippedRiki gets some oil and oils up the soles of his feet until they're super shiny. Get lost as you gaze at this dom's big alpha feet while enduring his verbal abuse.
---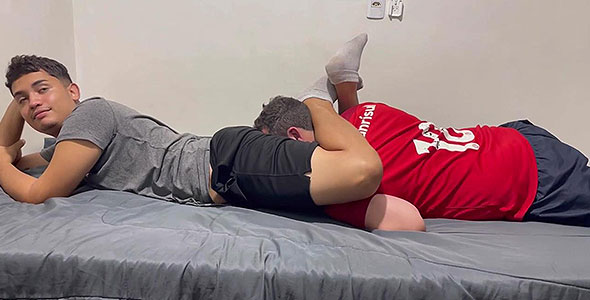 5 New Videos – Master Ch totally dominates Slave Matt and forces him to worship his ass while being choked. Slave Matt is choked between Master Ch's strong legs and has his head forced into this dom's crotch and ass. The slave has no where to go and doesn't want to go anywhere else. In another meet up with Master Ch, Slave Matt is totally ignored while his dom sits on his face. Master Ch plays some video games as he sits on this slave's face. Ignoring the slave's whimpers and moans, Master Ch just continues on playing his games. Things get more intense when Master Ch locks his slave in a deep headscissors. With his strong legs wrapped tightly around the slave's throat, Master Ch totally chokes out this slave into complete submission. Slave Matt begs for mercy as the hold intensifies.
For his efforts at enduring that intense choking, Master Ch lets the slave gag on his feet. While ignoring the slave at times by playing on his phone, Master Ch gets this slave to swallow as much of his foot as it can. The slave struggles and gags trying to take more of Master Ch's foot in his mouth. Master Ch gets bored and then decides it's time to choke the slave some more by locking him in a triangle chokehold. Locking in this submission super tight, Slave Matt gasps for air as this dom just laughs at the slave's torment. Master Ch shows how sadistic he can be when choking his slave with his strong legs.
---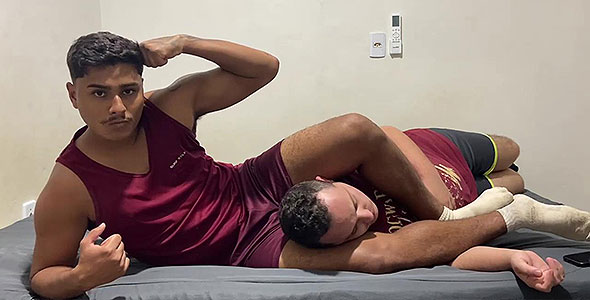 4 New Videos – Master Daniel is in the mood to choke out his slave. Locking his leg tightly around the slave's throat, Master Daniel quickly asserts his dominance. Slave Matt gasps for air and mercy as Master Daniel fully locks in this brutal submission. Afterwards, Master Daniel gives the slave a break and decides to sit on his face. Master Daniel laughs at the slave as he smothers him with his ass. THe slave whimpers are ignored and shrugged off as amusement for this alpha. Slave Matt then gets the chance to worship his master's feet. Laying on his back, the slave takes as much of Master Daniel's foot in his mouth as he can. Master Daniel makes sure to make the slave gag on his big powerful feet.
Master Daniel changes up gears a bit and makes his slave put on a traditional Jiu Jitsu uniform as he fights his slave. Master Daniel wants to see how much the slave can fight when thrown into the situation. Sadly for this slave, he can barely fight back and ends up getting taken down to the mat and choked out. After all those real times, it's time for Master Daniel to sit back and relax. This jock doms burps for the camera while laying back and chilling. Get a glimpse of this dom's alpha male feet and body and he makes you want to worship him.