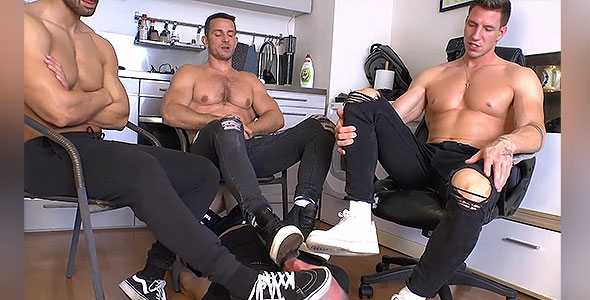 2 New Videos – Stefano and 2 of his alpha friends dominate a foot faggot. This foot slave lays on the ground as these three alphas smother his face with their big alpha feet. The obedient foot slave is ordered to sniff, lick, and worship their feet while getting spit on. Later, Stefano and a muscle jock buddy have a flex off. These two ripped muscle Gods flex their lean muscles and show off their chiseled physiques. Any muscle worshipper will drool over their perfect bodies as they show why they are physically superior. Submit to your alpha muscle Gods in this nearly 13 minute flexing clip.
---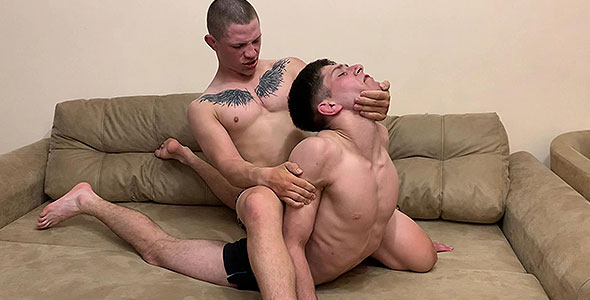 4 New Videos – ElliotScissors and Dustin battle it out in a headscissors fight. Dustin doesn't know what he's in for when Elliot locks his tight legs around his head like a vice. Elliot's strong legs are like an anaconda wrapped around Dustin's head as they continue to tighten and squeeze him. In another wrestling match, Dustin battles Demir on the mat. On this hot summer day, these two jocks break a sweat wrestling each other and locked each other in a variety of scissors and submissions. See which of these two doms proves to be more powerful on this day.
ElliotScissors' buddy Jim uses his headscissors skills to choke a slave. Jim loves to feel the power he has over his prey as he tightens the headscissors on this slave. The scared slave squirms and panics as this dom tightens his grip around it's head with fierce intensity. The guys then gang up on this slave for a group choke session. ElliotScissors, Dustin, Jim, and Demir abuse their house slave and make him feel helpless. The slave has no where to run to but to submit to these 4 alpha males as he screams for mercy.
---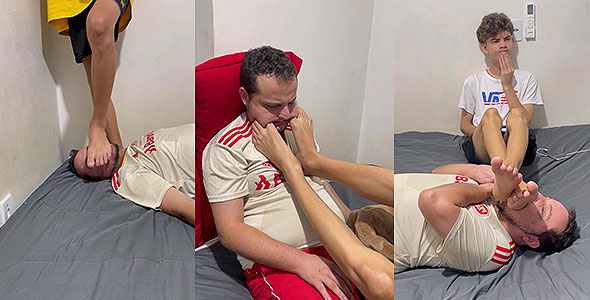 5 New Videos – Slave Matt gets trampled and stomped on in his latest real time encounter. Laying on his back, Slave Matt submits to this master's feet as he is walked all over and stomped on. Slave Matt then worships and sucks this superior's barefeet. The trampling abuse continues in the next meet up. Slave Matt lays face down as his dom walks all over his back. The dom puts his full weight down on Slave Matt to make him feel squashed and crushed under his master's feet. Slave Matt cannot get enoug hof being stomped on as he then meets up with Master K for even more stompage. Master K uses Slave Matt like a doormat as he walks all over him totally ignoring the slave's cries. Slave Matt simply endures the punishment from this master as he is crushed under his barefeet.
Master Daniel then stops by to fight his slave. Wearing traditional Jiu Jitsu attire, Master Daniel chokes and dominates Slave Matt with ease. Slave Matt does his best to fight back but there is no use against Master Daniel's fighting skills. Slave Matt then tries battling against Master R but obviously is defeated and dominated. Slave Matt gets kicked in his body and face by this powerful alpha. Master R is highly trained in martial arts and it shows as he puts Slave Matt in his place.
---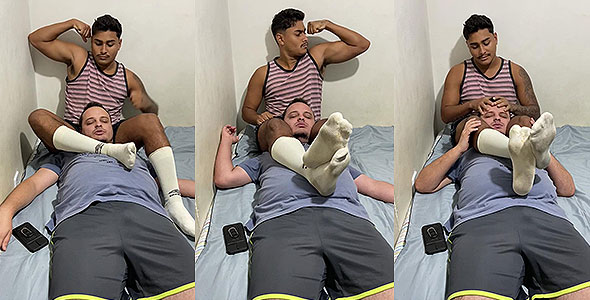 5 New Videos – Master Daniel loves choking his slave. Locking his slave between his legs, Master Daniel tightens his legs around the slave's neck making him submit. Get a view of the bottoms of this alpha's white socks as he chokes and dominates his slave in their real time session. Later, Master Daniel, still wearing his white socks, walks all over his slave. Pinning his slave to the ground under his feet, Master Daniel walks across this slave's body to punish him some more. The pathetic slave is dehumanized and treated like an object by his powerful master.
The abuse of this slave continues as Master Daniel treats his slave like a punching bag. Wearing boxing gloves, Master Daniel delivers hard body blows to this slave knocking the wind out of him. Master Daniel gets in his fighting practice as he continues to land more body shots on this weak slave. The slave still needs more of Master Daniel in another real time session of theirs. This time Master Daniel pins his slave to the ground. The slave tries fighting back but there is no use as his master is too strong for him to overcome. Then to switch gears, Master Daniel has a video for the kinkier slaves out there that want to worship his farts. In a compilation of clips, Master Daniel lets out some farts for those nasty slaves that crave it. Sniff his farts and submit to this jock dom.
---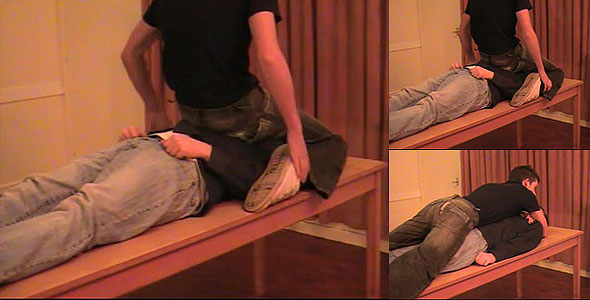 1 New Video – Master Shaun has a little bit of fun with his slave as he lays on top of his slave. Pressing his full bdoy weight into the slave, the slave feels all of his master on top of him. Later, Master Shaun sits on the slaves face and totally smothers him with his ass.