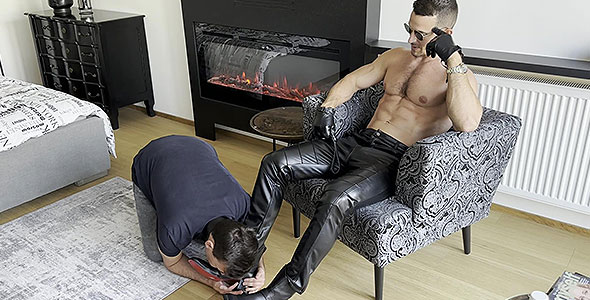 3 New Videos – Muscle God Stefano has an obedient foot fag to worship his leather boots. This loyal puppy is on a leash while Stefano is clad in leather pants, boots, and gloves. Stefano's slave licks and worships his master's boots while getting spit on. In another clip, Stefano shows off his oiled muscles while he flexes outside. Rubbing his ripped physique with oil, Stefano flexes and makes you wish you could worship his perfect body. Showing off his pecs, biceps, and abs, Stefano will give you something to drool over. If you want to get kinkier then you can serve his oiled feet. After rubbing his muscles, Stefano oils up his big alpha male feet while flexing. Getting the camera close up, this dom shows off his huge superior feet making y ou crave them even more.
---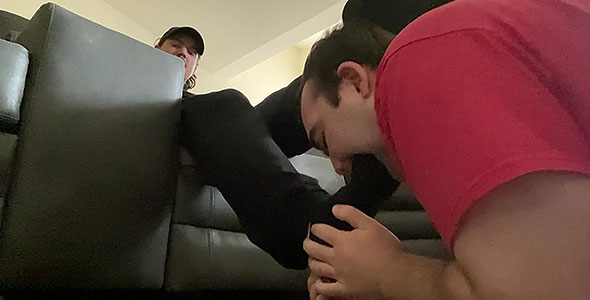 3 New Videos – Master Ultimate God gets another foot faggot to serve him. This obedient fag lays on the ground as he sniffs and worships Master Ultimate God's socked feet for the first time. Master Ultimate God makes sure the foot slave knows his role and purpose is to serve superior straight alpha feet. Later, Master Ultimate God tramples his slave during their real time session. After he treats the slave like a doormat, Master Ultimate God sits on the slave's face. This jock dom wastes no time putting this slave in his place beneath him.
If after watching that real time session, you crave more of Master Ultimate God's ass, then check out this ass worship clip. Master Ultimate God orders you to worship and serve his superior ass like an obedient slave. Prepare to endure intense degrading verbal as you stare at his muscled ass. The verbal abuse continues in the next clip as Master Ultimate God has a message for you for Pride. To this alpha, you are just a pathetic, inferior queer and need to be put in your place. Endure some hateful verbal as you wank your tiny dick.
---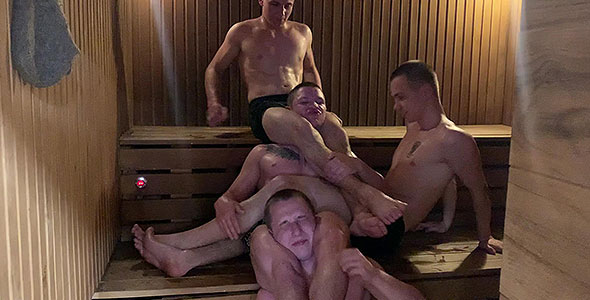 3 New Video – Elliot Scissors, his friends, and newbie Jack decide to have a headscissors session in the sauna. In the steamy room, covered in sweat, these jock bullies waste no time practicing their headscissors skills on each other. With their legs tightly wrapped around the other jock's head, they all begin to sweat and feel the intensity. Back at home, Elliot, Hunter, Jim, and Nevil decide to battle it out in a wrestling match. These jock alphas have a fun time playing around as they fight for superiority with one another. Each guy applies a different fighting technique and different head and body scissors to assert his dominance. Elliot's friends, Jim and Ethan, have their own separate chokehold competition on a wrestling mat. Jim and Ethan squeeze each other with all their might to test out a variety of chokeholds they plan on using on slaves. Ethan demonstrates a bear grip with his legs and Jim shows off the strength of his legs during chokeouts.
---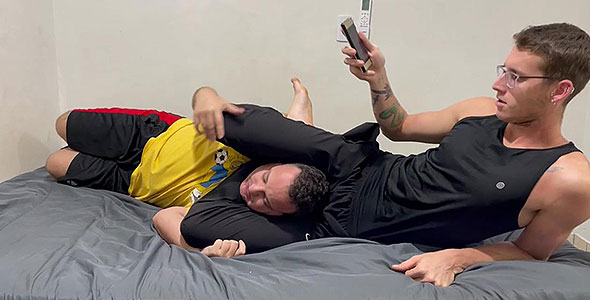 5 New Videos – Slave Matt invites over a new master for a rough real time session involving lots of chokeholds and dominataion. This arrogant dom wraps his legs around Slave Matt's neck and locks in dozens of different chokeholds of varying pressure. Slave Matt struggles and easily taps out each time. This dom then gets behind Slave Matt for more intense chokeholds. Slave Matt is choked, bullied, and beaten up by this new dom. This alpha laughs at Slave Matt's pain and struggle showing no sympathy. Slave Matt can't resist getting used by more dominant fighters. Not long after his session with this new dom, he invites over Master Daniel to choke him out. Master Daniel locks Slave Matt in a figure 4 choke and sits dom on him showing total dominance.
It's then Master F's turn to choke out the slave. Master F makes Slave Matt worship his feet first before choking him with his strong legs. Slave Matt gets locked between Master F's powerful legs with no way out. Following the choke outs, Master F tramples the slave while standing over him. Master F uses the slave as a door mat and walks all over his body and face. Slave Matt is trampled, stomped on, and kicked by this alpha dom.
---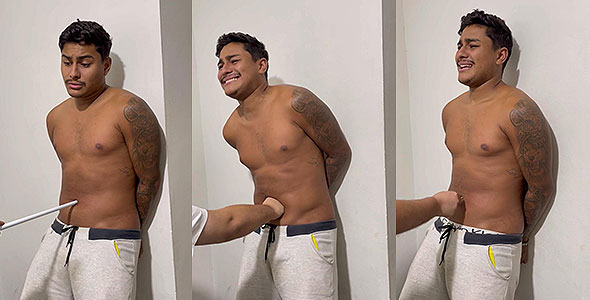 3 New Videos – Master Daniel tests the strength of his abs with some gut punch abuse. With his arms behind his back and up against the wall, Master Daniel get gut punches and pokes to the stomach showing off how much his core can handle. This dom endures a lot of punishment showing off his strength. In another clip, Master Daniel get more gut punches as well as belly button abuse. It seems like the tables have turned on this dom as he experiences the same punishment he'd give to slaves. Nevertheless, Master Daniel endures everything thrown at him and never begs for mercy. After getting tired out from the gut punching session, Master Daniel then gets ambushed and dominated by his slave. While relaxing, Master Daniel gets jumped by Slave Matt who tries to lock him in a variety of chokeholds. Slave Matt better be careful because soon it'll be Master Daniel's turn to get payback for this.