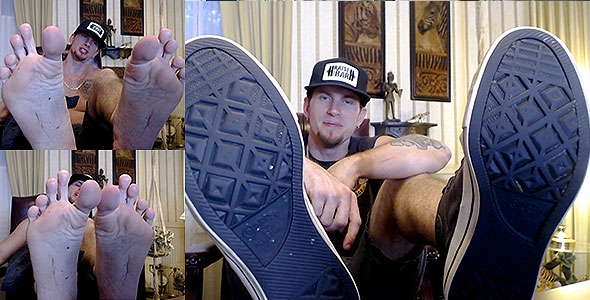 1 New Video – You've been lurking in anticipation for Sir Kraze to post something new and he did it. Crawl over and sniff his socks, sneakers, and feet. Sir Kraze puts his feet up to the camera as he verbally berates you and tells you how to be an obedient foot fag. Your duty is to lick his sneakers clean then worship his huge alpha male feet. Download this clip for a good dose of Sir Kraze humiliation.
---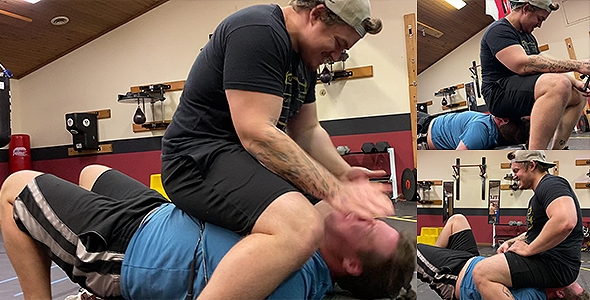 2 New Videos – MasterUltimateGod smothers his slave with his ass. To start off this real time session, MasterUltimateGod slaps the fag around and then proceeds to sit directly on this fag's face. Next, MasterUltimateGod turns around and punches the fag slave in the gut a few times, then makes sure to abuse the fag's balls some. After this dom sits back down on the fag's face, the slave is unable to stand it for much longer and is able to escape. MasterUltimateGod stomps on the fag's back and then chokes him with some jump rope. The fag is in tears by the end of this video clip. The grapplng continues as MasterUltimateGod goes back on the mat with Fag Butler. MasterUltimateGod slowly tortures the fag into submission. The sub writhes around in pain as MasterUltimateGod locks the sub in various painful submissions. Fag Butler has no choice but to submit and tap out.
---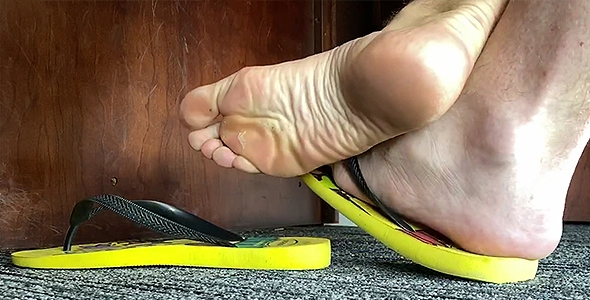 3 New Videos – Dom master Nebenny shows off his size 13 feet while wearing some yellow Haviana flip flops. This alpha will have you drooling over his giant sweaty feet. Rubbing his huge feet against each other under his desk will make any foot fag wish they could be under that desk servicing those feet. Later, Nebenny goes outside for a quick 5 minute video clip to show off his feet in sandals some more. Tons of shoe play as this dom slips his sandals on and off while walking around to show off his giant sweaty soles. In another video upload for this week, Nebenny lays outside and puts his feet up close to the camera. During the clip, a small fly buzzes around and enjoys the smell of this dom's huge feet. The fly lands on his feet and keep coming back to sniff this superior alpha's foot scent.
---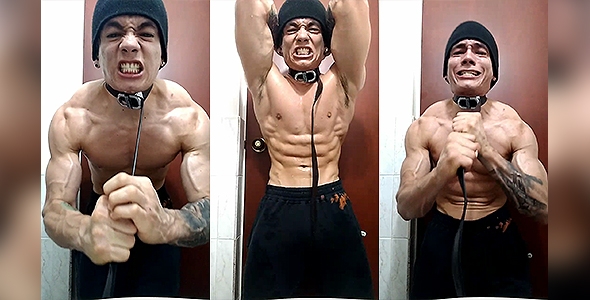 1 New Video – Chokemasters has a new sadistic self choke out video of one of his bros, Fred, choking himself with a belt and flexing. This muscle stud chokes himself as hard as he can with a belt until he nearly blacks out. As he chokes himself with such power, you can see his vascular body pump up more and more as it gets more intense. Fred may have developed a choking fetish after this.
---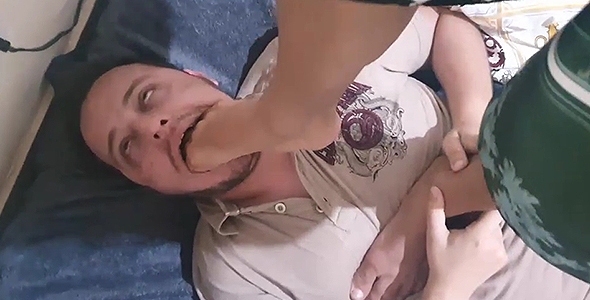 5 New Videos – Ikagura is back with some more stomp domination. This foot master cruely stomps on his weak fag brother and makes the foot fag worship his alpha feet. This foot fag gags and chokes on his dom's feet whenever he's not getting stomped on throughout the video. Later, Ikagura locks the sub in a headscissors. This obedient fag slave enjoys whatever his master does to him, that includes foot worship and getting choked. Ikagura locks his legs around the slave's head and chokes him out until his eyes are rolling in the back of his head and he's drooling. The stomp domination continues as Ikagura dominates this foot fag. Ikagura stomps hard on the weak foot slave and makes his gag on his huge feet. The obedient foot fag loves every second of getting to worship his alpha's feet.
The beatings and foot worship never stop as Ikagura beats his slave and makes him worship his alpha feet. The dominant brother makes his younger brother lick and serve his feet. Face kicks and foot stomps all throughout this clip. After the foot stomping, the dominant alpha brother makes his younger foot fag brother partake in some breath control and foot domination. Making his younger brother worship his feet, Ikagura stops to choke out his brother and test his devotion. The foot sub will do whatever his dominant older brother demands.