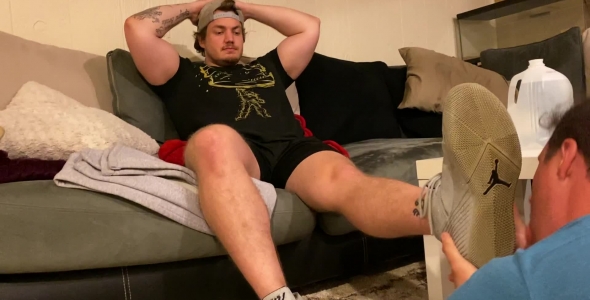 2 New Videos – Fag Butler is back at MasterUltimateGod's feet. This time, MasterUltimateGod decides it's important to give the fag a little lesson in straight philosophy. MasterUltimateGod lets his fag know what it means to be straight and how the fag's only purpose in life is to serve alpha men like him. The fag sits there, listening to his master's lessons, licking his shoes, and massaging his dom's socked alpha feet. This is a great training tool for any of fags who forget their place in this world…under the feet of alpha men like MasterUltimateGod. Later, MasterUltimateGod stomps all over Fag Butler at the gym. Laying down on a step platform, the fag is crushed under MasterUltimateGod's alpha feet and ass. MasterUltimateGod sit on the fag's face, suffocating the fag slowly under all of his weight. Fag Butler hates when MasterUltimateGod tramples on him and sits on his face, but MasterUltimateGod doesn't care what the fag thinks. Fag Butler deserves this pain, and so do the rest of MasterUltimateGod's slaves.
---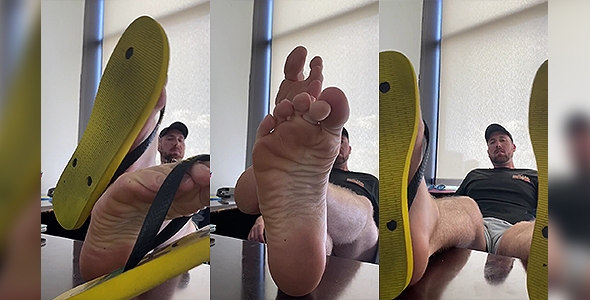 1 New Video – Alpha dom Nebenny slips off his yellow flip flops to show off his giant sweaty and smelly size 13 feet. This straight master puts his sandals on the desk and shows his bare soles to the camera for you to drool over. This is perfect for any foot fag to lust over throughout the entire video.
---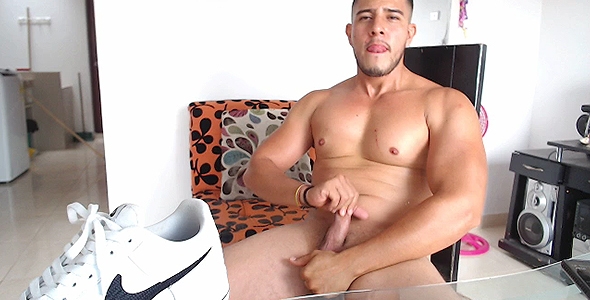 3 New Videos – Davidwar was jerking his dick on webcam with a friend who has a sneaker fetish. Davidwar plays up the sneaker fetish acts in this video as he rubs his ass and dick with a white Nike sneaker. He even fucks the sneakers with his big, hard dick. Finally Davidwar busts a hot load of cum all over the sneakers. Later, Davidwar takes you along for a hookup with a sexy Latina girl. The girl is cock crazy for Davidwar. She can't get enough of his big dick as he fucks her while sucking a lollipop. Then for those who still want more solo action of Davidwar will love the next video as he flexes in fetish gear. Davidwar shows off how much of a hunk he is as he flexes his muscular physique. You can feel the cockiness and dominance as he shows off his sweaty armpits and big biceps.
---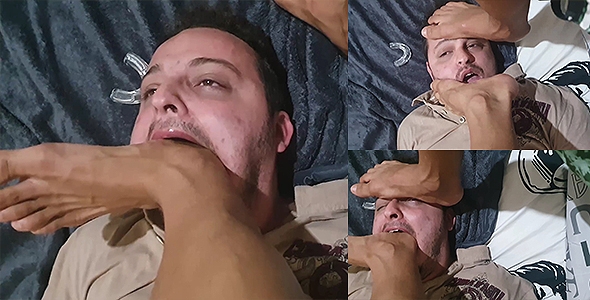 5 New Video – In this 8 minute long video clip, Ikagura makes this foot fag worship his feet. Throughout the clip there are tons of face slaps and domination. More than 20 kicks and stomps for the foot fag as Ikagura asserts his dominance. Ikagura kicks the fag so hard that his mouth protector gets knocked out. The foot fag is obsessed with his master's feet. The obedient foot fag kisses his master's feet and does everything he is told to do. This obedient foot fag accepts his destiny as a foot stool. In another clip, Ikagura chokes out the slave with his feet. The slave gasps for air as he is choked out but enjoys every second of it. This foot fag isn't sure if he should endure the suffocation but can't get enough of his master's feet so he endures it.
The foot action continues as Ikagura stomps the fag with his dirty feet. The foot fag enjoys serving his master's feet whether they are dirty or clean. As an obedient foot fag, the slave knows it is his role to lick his master's feet clean. Ikagura asserts his authority as a foot dom in the next promo clip. Ikagura makes the faggot lick every single inch of his foot. The slave licks Ikagura's toes, soles, and heels of his feet because he cannot get enough of serving Ikagura's feet.
---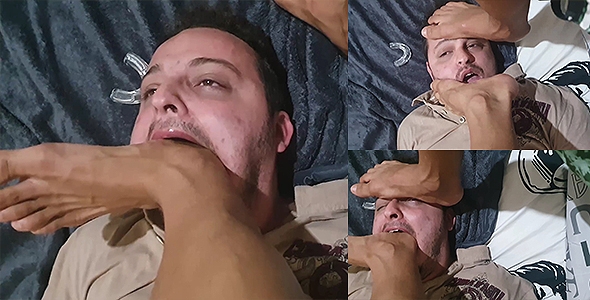 2 New Videos – TurkishSatan commands you to lick his shoes. Putting his black sneakers up on a table in front of the webcam, this alpha dom orders you to crawl up to his sneakers and lick them clean. TurkishSatan sits back and relaxes while smoking a cigarette. He quickly reminds you that you are a loser meant to lick his sneaker soles. TurkishSatan then shows no respect for fags. Giving you intense verbal abuse, this straight master tells you why he's superior to you. You'll quickly learn that you are meant to be a lowly faggot for alphas like this for the rest of your life.