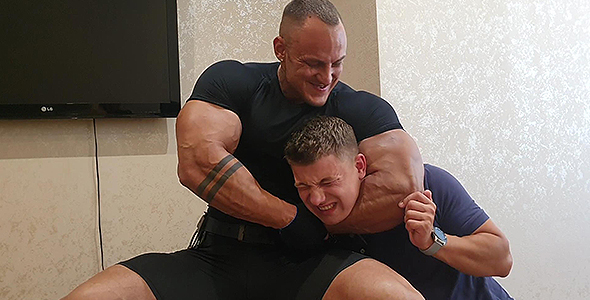 2 New Videos – Monster muscle dom Big Alpha takes on the role of a cop and punishes this weak boy under the full force of the law. Using his massive muscles, Big Alpha squeezes the weakling with his huge biceps and more to administer total punishment. The weak boy has no other choice than to obey this monstrous muscle dom. In part 2, this huge bodybuilder torments this defiant criminal by locking him in a tight headlock to assert his dominance. Big Alpha's veins are bulging from his arms and all over his muscled body while taking the boy to the ground. Later he uses his muscular legs to wrap around the perp's head. Big Alpha's legs are so huge that the boy's head nearly disappears when getting squeezed between these muscle thighs.
---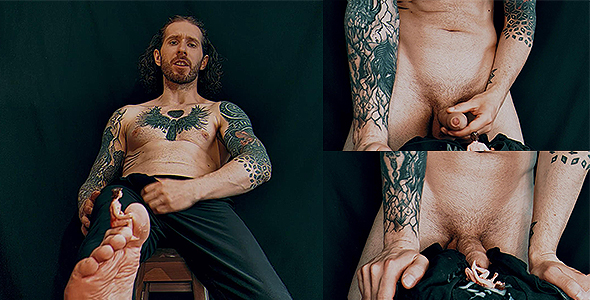 2 New Videos – A tiny slave is initiated by Mr. Big and his reward is a bedding made of used boxers and Mr. Big's creamy load. Starting from foot worship, to huge ball play, to ass worship as Mr. Big builds up a gigantic load to unleash and cover the tiny slave. Later, Mr. Big instructs you, his tiny slave, to follow him to the urinal to piss. Mr. Big doesn't tolerate slaves who don't obey or put up a fight. One thing he does like is begging. Beg for his piss in your mouth and make it convincing and he might just give it to you.
---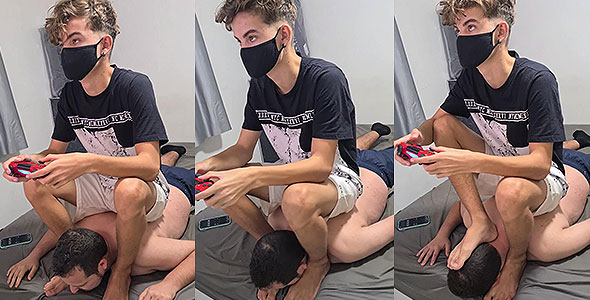 5 New Videos – Master J has come over to pay his slave a visit but he plans on totally ignoring his slave while playing video games. Master J sits on the slave's back as the slave licks and worships his master's feet. Completely ignoring this slave, Master J just sits on the slave like it's furniture to do some gaming. Once he's done gaming, Master J punishes the slave a little by trampling the slave. Treating the slave like a doormat, Master J walks all over the slave and then chokes the slave with his foot. This obedient foot slave just sits there and takes it as he gags on his master's feet. To administer more punishment to this slave, Master J chokes out the slave with his legs. Wrapping his leg around the slave's throat, Master J shows no respect to his slave and makes him suffer until he's begging for air.
In another session with his slave, Master J wants to have some fun by beating down the slave. Putting on some boxing gloves, Master J pummels his slave and knocks him to the ground. On the ground, Master J tramples and stomps on the slave some more. This slave must love punishment because in a separate session, he invites over Master K to box him and beat him. Master K punches and kicks the slave like a human punching bag. Once the slave begs for a break, Master K orders the slave to worship his barefeet on the ground. The slave licks and worships his master's feet in between getting kicked around.
---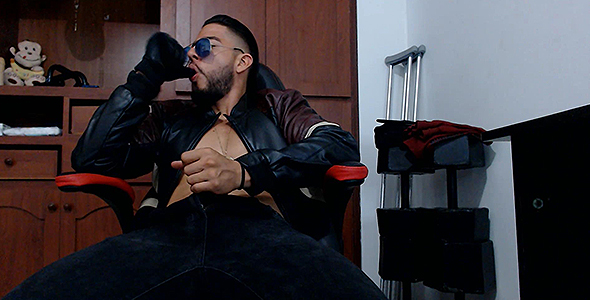 3 New Videos – Wearing a leather jacket and gloves, Davidwar turns himself on from all of his leather gear. This jock then whips out his cock and begins masturbating while rubbing his leather gear. He shows off all of his body before finally cumming from this hot leather gear. Things get even kinkier when Davidwar uses a dildo on his ass during a cam session. Wearing a lovense in his hole, Davidwar strokes his hard dick for the camera. This jock loves having an audience watch him and the next clip is no exception as Davidwar jerks off on cam. Stroking his big dick and sucking on a dildo, Davidwar turns himself on and builds up a massive load before busting on cam.
---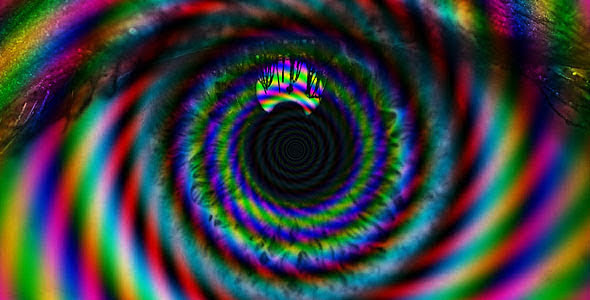 1 New Audio Clip – Meet Grace, one of Master Lucian's most faithful submissives. In this audio clip, you'll hear Master Lucian inducing and reinforcing obedience, followed by oral and vaginal sex. Sit back and imagine yourself in her place as Master Lucian fucks your soul, mind, and body for 14 minutes.