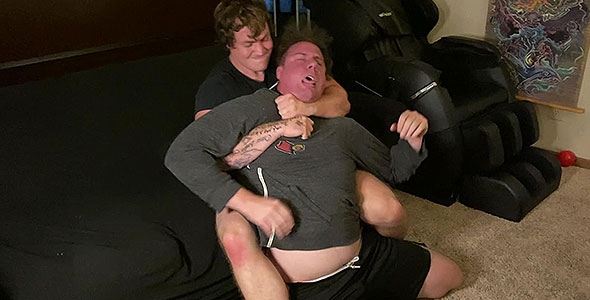 3 New Video – MasterUltimateGod man handles his fag bitch slave in his new grappling abuse video. Fag Butler endures knees to the face and kicks to his weak body as MasterUltimateGod torments the fag for his pleasure. This style of punishment is the type of punishment every queer slave deserves at the hands of their alpha master. Later, MasterUltimateGod crushes the fag's balls in a brutal stomping videos. MasterUltimateGod crushes this weak faggot into the carpet, step by step. Walking all over him, crushing his balls beneath his powerful feet. This stomp session helps remind the fag about his position in the natual hierarchy of life.
MasterUltimateGod gets Fag Butler ready for some intense humiliation as he farts in the homo's face. MasterUltimateGod gets Fag Butler close to his straight alpha muscle ass and blows out fart after fart into this fag slave's face making him inhale all of the gas. At some points, MasterUltimateGod sits on the fag's face and forces him to sniff every bit of the gas.
---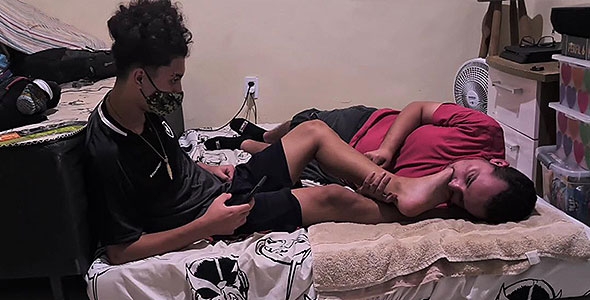 4 New Videos – Ikagura uses his brother for another extreme foot gag and stomp session. His weaker foot fag brother worships his alpha brother's feet throughout this 16 minute video clip. Being an obedient foot fag, Ikagura's slave brother sucks his feet and worships his brother who is in charge. In another video clip, Ikagura uses his younger brother for some extreme stomping. The younger foot slave brother gets stomped on by his big brother's feet. Ikagura stomps on the slave's face and throat until they turn bright red. His weak brother doesn't want it to stop as he wants more and more of his older brother's feet on him.
Ikagura gets even harder with the foot stomps in the next clip. This time Ikagura stomps on the slave's face with no mercy. Ikagura totally ignores when his foot fag brother taps out from getting choked and smothered with feet. The brutality gets to the point that Ikagura's brother busts out crying from the humiliation and abuse. In his final new clip this week, Ikagura tests out some jiu jitsu holds on his weak fag brother. Ikagura locks his brother in various headlocks, headscissors, and chokeholds to assert his dominance. When he's not choking his brother out to submission, he's stomping on his brother's face and showing why he's the more dominant brother of the two.
---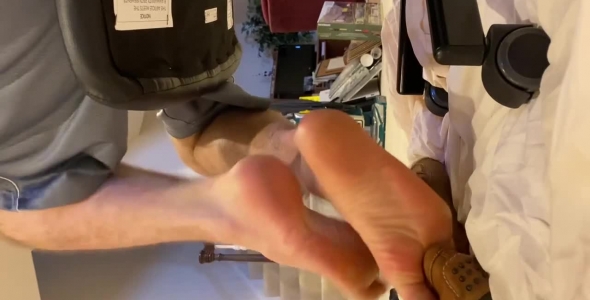 1 New Video – Master Nebenny is about to slip off his sockless moccasins to expose his barefeet. This superior foot dom stretches his sweaty barefeet with the camera on the floor. He shows off his wrinkled and smelly bare soles close up all throughout this 10 minute feet play clip.