2 New Videos – King Luca gets his masked fag slave to serve his superior ass. Pinning the slave on the bed, King Luca sits on the slave's face and teases him with his ass. When King Luca sits on the slave's face, he makes sure to punch the slave's body a few times. After you watch this slave serve King Luca's ass, you can become his mindless popper slut. Get down at this alpha's feet and look up at them as he blows cigarette smoke in your face treating you like a human ashtray. King Luca even spits at the camera a few times because you deserve it. By the end of the clip, you'll be an obedient foot servant.
---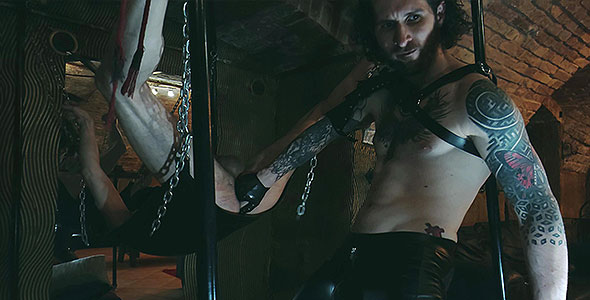 1 New Video – Inside Master Alex's dungeon, slave Gus is hung up on a sex swing ready to be fisted. This weak horny slut wants his ass filled but Master Alex wants to see him squirm and squel. The anal bitch begs his master to push his hand further in his slutty hole to be sodomized more.
---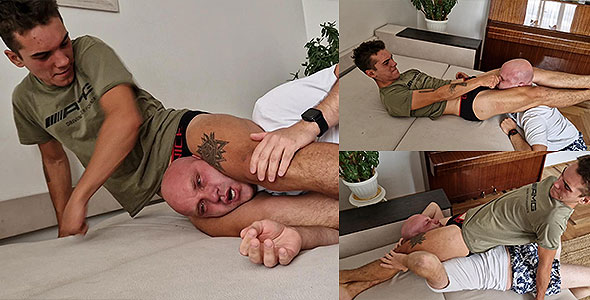 3 New Videos – Alex brings over his pathetic slave for some intense headscissors abuse. This weak slave stands no match against Alex's powerful legs. Alex quickly turns the slave into a victim begging for mercy trapped between his strong legs. See how much abuse this slave can endure in this 12 minute clip. Later the weak slave is put in a tight front figure four submission. The slave writhes around trying to get out of the figure 4 pin but all attempts just amuse Alex. Alex locks the hold on tighter laughing at the struggling slave. After using this slave, Alex and ElliotScissors shows off their strength with some friendly wrestling with one another. The two studs lock various headscissor chokeholds on each other to see who is the strongest.
---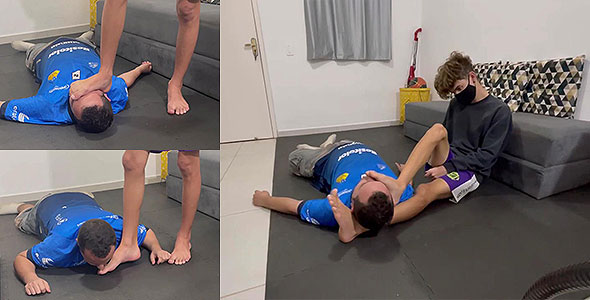 5 New Videos – Master J returns to choke his slave. Pinning the slave on the ground, Master J first walks all over the slave and smothers the slave's face with his feet. Then Master J uses his foot to choke out the submissive foot slave. Afterwards, Master J locks the slave in a triangle chokehold to see how much abuse he can endure. The slave struggles for mercy and has to tap out. Once the slave is totally worn out, Master J orders the slave to lick and serve his feet.
In another real time encounter, Master P orders the slave to worship his socks. While playing video games, Master P sits on the slave's back and the slave sniffs his master's socks. The slave licks and serves at his master's socked feet while being totally ignored. Following the sock worship session, Master P allows the slave to serve his barefeet. Pinning the slave down some more, Master P first kicks the slave around to rough him up some. Afterwards, the slave gags and sucks on his master's superior alpha feet. In the third encounter with Master P, slave Ikagura is choked out while being ignored. Master P goes back to playing some video games but traps the slave's head between his legs to choke him out. Slave Ikagura is totally dominated and whimpers for mercy but is totally ignored by Master P.
---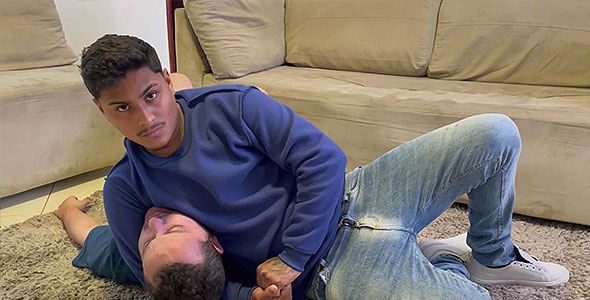 1 New Video – Daniel Slin brings his slave over to choke him out. The slave is pinned down to the ground as Master Daniel wraps his arm tightly around the slave's throat. Once Master Daniel locks on a chokehold, there is no way out until he lets go. See how much suffering this slave can endure until Master Daniel releases the chokehold in this nearly 20 minute video.