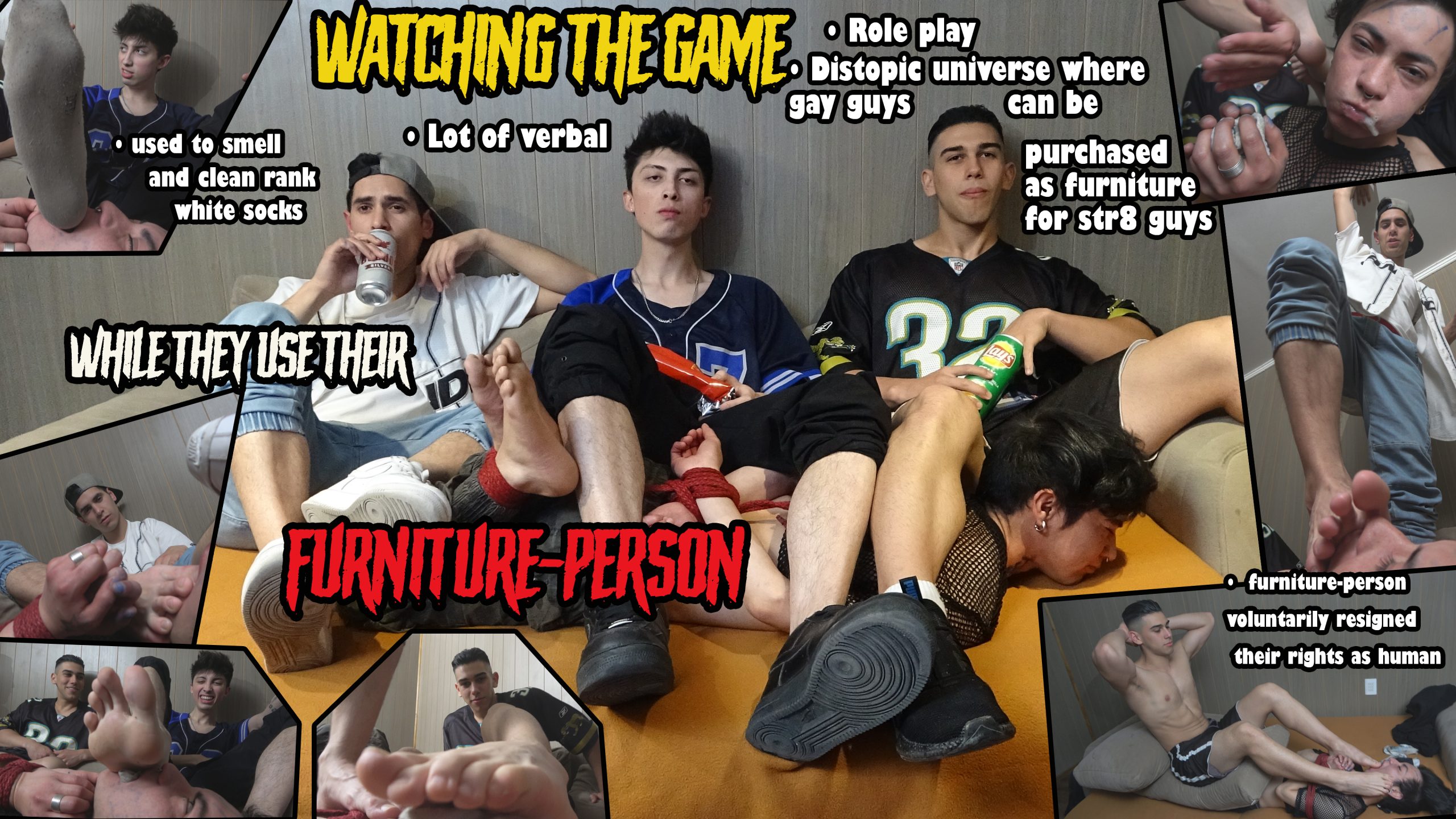 3 New Video – In this roleplay video, a law was passed allowing people to become "human furniture" for others, leading to a popular and successful company called Homofurnitures. Ethan receives a "Furniture-person" from his girlfriend Clara, who works at the company, and decides to debut his new object with friends Dimitri and Steve. The three friends place their smelly feet on the Furniture-person, who is initially confused and repulsed by the odors but gradually becomes addicted to them, seemingly programmed to exist for this purpose. In the next clip, a foot sub is prepared to serve seven young doms, who view him as a toy and will push his limits. The men drink, smoke, and enjoy themselves while the sub worships their feet. The group dynamic becomes increasingly kinky as more people join, with one member, Andres, evolving from a calm recruit to a skilled master. In their final update this week, Master Dnero and his buddies from Str8CrushFeet use these two foot fags as their servants. The obedient foot fags worship the feet of these alphas by licking and cleaning every inch of them. Each dom gags the two foot fags with their feet and get their toes sucked.
---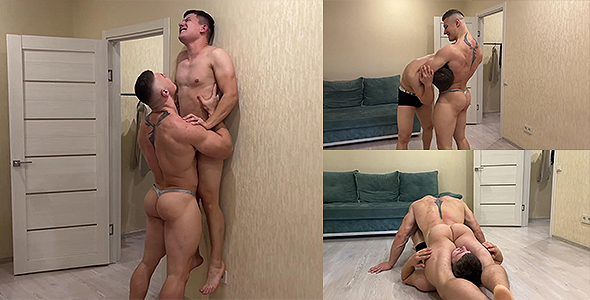 2 New Videos – Wearing only a skimpy silver string thong, Big Alpha dominates this weak beta boy. Squeezing him in a bear hug, Big Alpha shows his raw muscular power. The beta boy agonizes in pain as Big Alpha doesn't let go. Similarly, The Punisher dominates his sub in this Christmas themed video. The Punisher gets his muscles worshipped before dominating the smaller sub, Gio. Gio is squeezed and manhandled by The Punisher. Wearing just a red jockstrap, The Punisher uses his strength to dominate this sub.
---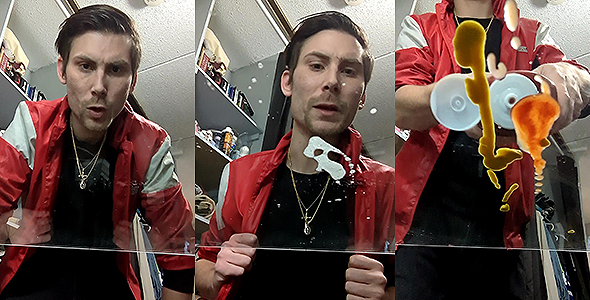 1 New Video – You need a guide in your life and CashMasterTrey is ready to guide you into becoming a disgusting pig. This Brutal God is going to spit loogies on your creepy face and cover you in ketchp and mustard like a fucked up human hot dog. Be ready to get fully degraded and turned into filth.
---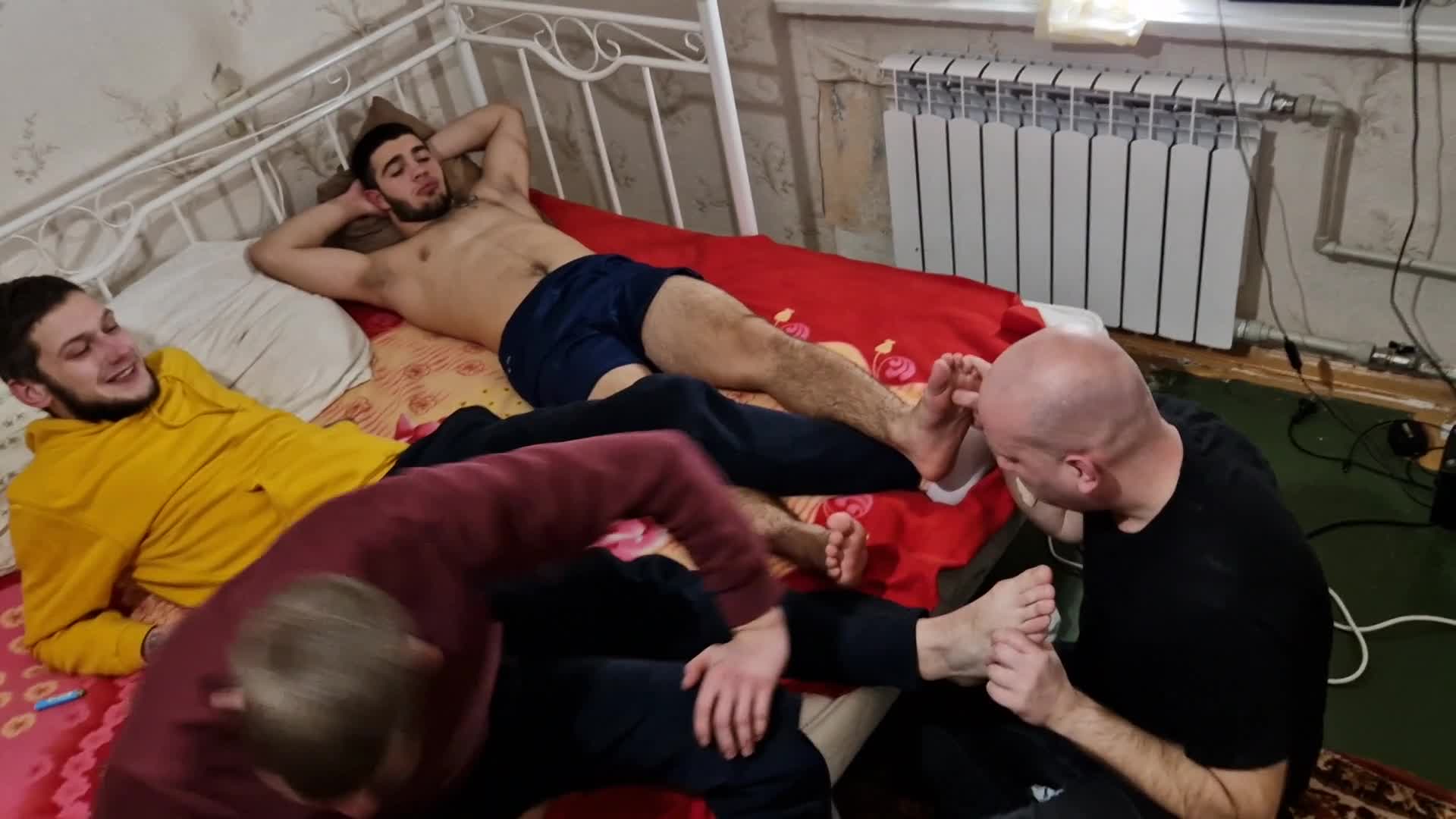 3 New Videos – Masters Bradford, Ritchel, and Hunter bully their slave. They get the slave down at their feet and laugh at him as he sucks their toes and licks their legs. The foot slave kisses each of their toes and carries out any humiliating task the doms order him to do. Later, Masters Neville and Rithcell humiliate their slave. The slave licks his master's sneakers clean and licks up the master's spit from the sneaker. Following that, the slave proceeds to sniff their raunchy smelling sneakers as he's bullied and slapped around. Following all of this, the slave gets dominated another time by Master Hunter. Master Hunter takes out his boxing gloves and uses the slave as a human punching bag. The slave takes body blows and when knocked to the ground, he must service his master's feet. Master Hunter brutally humiliates this slave by sitting on his face and squeezing his head with his muscular legs.
---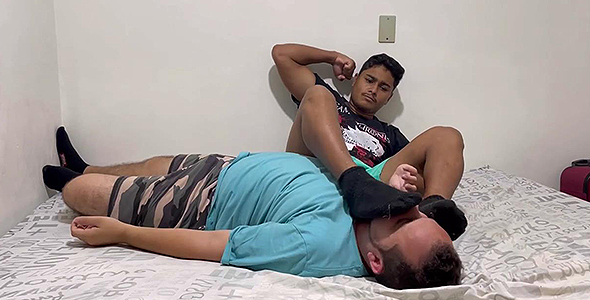 2 New Videos – Master Daniel orders Slave Matt to worship his feet. The obedient foot slave sniffs and worships at Master Daniel's socked feet. When Master Daniel gets bored, he chokes out his slave to assert his dominance over this weak submissive. The chokehold domination continues when Master Daniel gets his slave on the ground and begins putting him in a tight headlock. The slave writhes around and struggles for mercy but Master Daniel doesn't care. The slave's purpose is to be beaten and punished for his master's amusement.