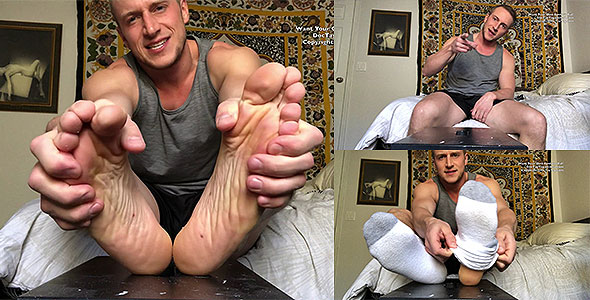 1 New Video – This is a fun, quick video for the Taylor foot fan enthusiast. Taylor starts with socks and slippers on his feet which of course he slowly takes off as he teases you along the way. Throughout this entire video, Taylor share his past foot tickling experiences and what he liked and disliked about them. He also goes into detail about what tickles the most, what his most ticklish places on his feet are and more. Check this one out if you want to know all of the juicy details about what drives Taylor's feet wild
---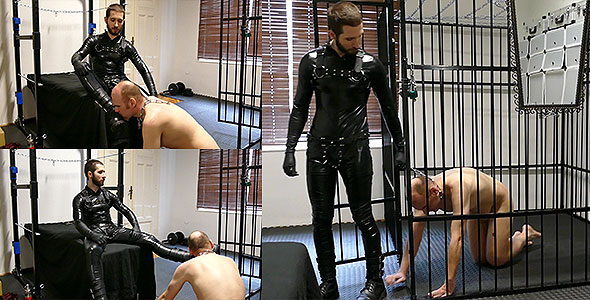 2 New Videos  – Master Alex always keeps at least one slave for use locked in one of his cagesand this slave is no different. Today, Master Alex needs someone to shine his leather boots as he is going to a fetish party. This alpha dom unchains the slave and pulls him out of the cage to be of service to him. Master Alex then instructs the pathetic fag slave to worship his boots while he spits in his mouth and enjoys dominating this useful boot slave. To use another slave for his amusement, Master Alex wants to try out his new metal whip and has over his regular slave for some hard nipple torment. The metal whip is not only heavy, feeling like a punch to the chest when it lands; it's also quite sharp like tiny needles. The slave can barely take a few hits before he almost pisses himself. Wanting to prolong the nipple torment without totally breaking his slave, Master Alex switches to the leather implement to make sure the suffering is long and plentiful.
---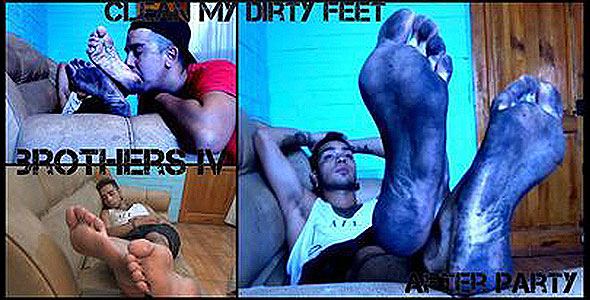 1 New Video – Dnero came home barefoot very early in the morning after attending a nearby party. Lucky, his brother, wasn't allowed to attend this party. Once he returns home, Dnero is a little drunk and can't remember where he put his sneakers, having danced barefoot all night. Having danced and walked barefoot most of the night, Dnero's soles are extra dirty and he needs a foot fag to clean his feet. Since Dnero always takes good care of his hygiene, he really needs his feet cleaned but the shower is farther away than his faggot brother Lucky so he decides to make Lucky clean his dirty feet. Dnero orders Lucky to eat all of the dirt off his feet until they are clean without a trace. Lucky obeys and begins taking Dnero's toes in his mouth and licking his soles. After a long foot cleaning session, Dnero can finally rest pleased to see his clean feet.
---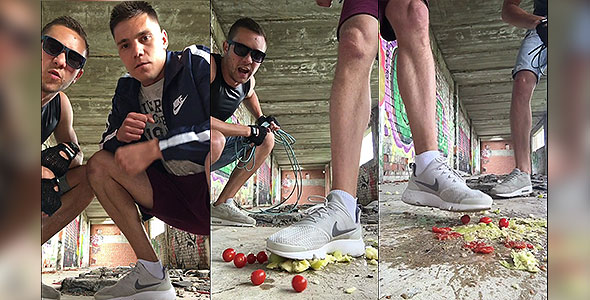 2 New Videos – Master Andy and his brother Master Chris are ready to crush a worthless slave. Unfortunately no slaves are anywhere nearby so they take out their frustrations on the next best thing, some fruits. Wearing Nike sneakers, these two dominant alpha brothers stomp and brutally crush these fruits into the ground leaving a wet mess. Seeing these doms smashing these small ripe tomatoes, imagine if they were stomping directly on you and crushing you into pieces. This brother duo then head to another location to practice their brutal whipping skills. Master Andy and his brother show you what it's like if they would give you a no mercy whipping as they laugh at your screams. When you're enduring the hard abuse, both of these doms would spit on you as they spit on the ground throughout the video. Submit to these dominant alpha brothers and download these videos.
---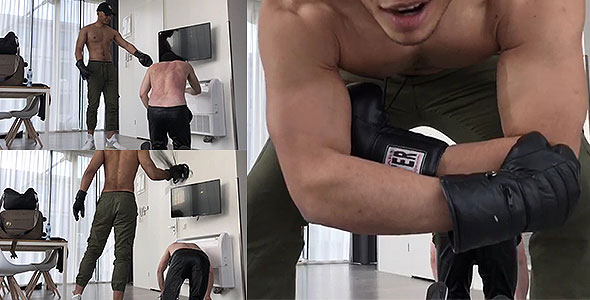 1 New Video – Dominant muscle master LordKingsley has a slave over to whip and trample for his amusement. This weak and pathetic slave endures LordKingsley's harsh abuse as he lights up this slave's back with sick and hardcore smacks from a whip. The pathetic slave cries from the abuse he suffers but LordKingsley doesn't let up and brings out all of his testosterone fueled aggression on this slave because he can.