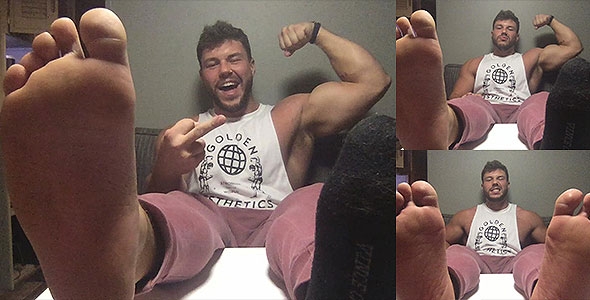 1 New Video – Alpha Derek props his feet up while you get wasted on poppers. Grab that fresh bottle of Jungle Juice or whatever your favorite brand of poppers is and begin huffing as this dominant alpha verbally abuses you for being a pathetic faggot. Watch Alpha Derek flex, flip you off, and laugh at you for being a weak pathetic cash fag at his feet.
---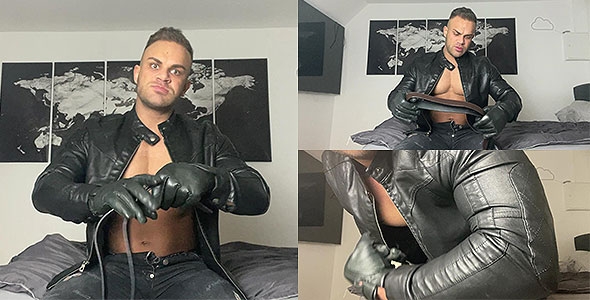 1 New Video – Get dominated by Master Flexgod in leather throughout this 8 minute video clip. Master Flexgod is clad in a leather jacket and leather gloves as he flexes and shows why he is such a superior alpha. This muscled dom even takes off his belt and shows you how he would beat you down if you were here in front of him. Submit yourself to this alpha leather god and hand over your wallet.
---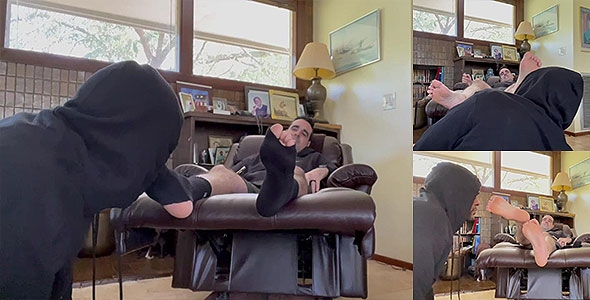 1 New Video – CubanKing gets his long time foot slave to worship his alpha feet. This obedient foot fag can't get enough of Cuban King's huge alpha male feet. Wearing ripped socks, Cuban King makes his foot fag sniff his smelly socks. Later as a reward, Cuban King takes his socks off and makes the fag suck and lick every inch of his bare soles. The sub follows every order for the chance to serve at his alpha's feet.
---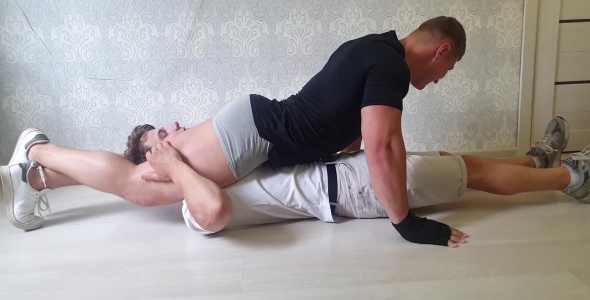 2 New Videos – Muscle alpha Dennis traps a weakling between his muscular thighs in his latest video clip. After showing off his strength and flexing, muscular Dennis pins his slave on the ground and nearly crushes his head like a grape between his super strong legs. The sub slave needs to tap out from the intense headscissors and power of this muscled dom. In part 2, the punishment continues as Dennis squeezes his sub's head. Dennis wraps his insanely huge and muscular legs around the slave's neck like a python suffocating it's prey. The scrawny slave nearly passes out from the absolute raw power of Dennis and the intensity of the headscissors he's locked in throughout the clip.
---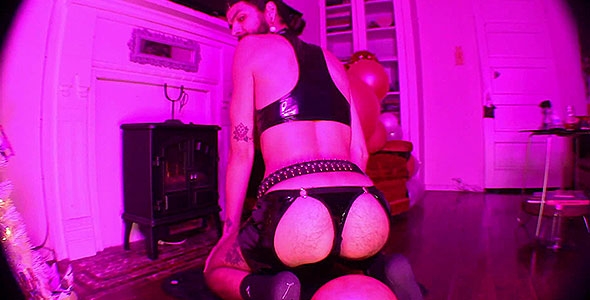 2 New Videos – AidenPrettii knows that love to worship ass, especially an alpha's ass. Feast your eyes on Aiden Prettii's ass as he manipulates you and makes you beg to see his perfect ass pop some balloons. The sigh of it, the sound of it, will have you gooning but you are NOT allowed to nut. You'll follow every one of Aiden Prettii's commands and do it for his ass. In another new clip, Aiden Prettii has you indulge in his VHS inspired clip. As a self proclaimed FinDom Extraordinaire, Aiden Prettii will start you down the path of total life domination. You will literally sell your soul to this cash dom. You will be exclusively his and eventually do whatever he demands. Please your master and you'll receive many more life changing tasks that will change you for the better.